The Forgotten First: Kenny Washington, Woody Strode, Marion Motley, Bill Willis, and the Breaking of the NFL Color Barrier (Hardcover)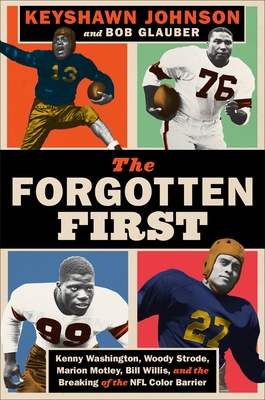 $28.00

Not in the store. We can order it and should have it in store in 3-5 business days.
Description
---
The unknown story of the Black pioneers who collectively changed the face of the NFL in 1946.

THE FORGOTTEN FIRST chronicles the lives of four incredible men, the racism they experienced as Black players entering a segregated sport, the burden of expectation they carried, and their many achievements, which would go on to affect football for generations to come.

More than a year before Jackie Robinson broke the color barrier in Major League Baseball, there was another seismic moment in pro sports history. On March 21,1946, former UCLA star running back Kenny Washington—a teammate of Robinson's in college—signed a contract with the Los Angeles Rams. This ended one of the most shameful periods in NFL history, when African-American players were banned from league play.

Washington would not be alone in serving as a pioneer for NFL integration. Just months after he joined the Rams, thanks to a concerted effort by influential Los Angeles political and civic leaders, the team signed Woody Strode, who played with both Washington and Robinson at UCLA in one of the most celebrated backfields in college sports history. And that same year, a little-known coach named Paul Brown of the fledgling Cleveland Browns signed running back Marion Motley and defensive lineman Bill Willis, thereby integrating a startup league that would eventually merge with the NFL.

THE FORGOTTEN FIRST tells the story of one of the most significant cultural shifts in pro football history, as four men opened the door to opportunity and changed the sport forever.
 
About the Author
---
Keyshawn Johnson was the first overall pick of the New York Jets in 1996 after a stellar career at USC, where he led the Trojans to victory in the 1996 Rose Bowl. He played 11 seasons in the NFL with the Jets, Tampa Bay Buccaneers and Dallas Cowboys, and won a Super Bowl in Tampa after the 2002 season. He was recently named the co-host of a nationally broadcast ESPN morning radio show and makes regular appearances on the network's NFL Live, First Take, Get Up, as well as guest appearances on a variety of other media platforms.

Bob Glauber is the NFL columnist for New York's Newsday and has covered the NFL since 1985. He was selected for the 2021 Bill Nunn Jr. Career Achievement Award by the Professional Football Writers of America for long and distinguished contributions to pro football through coverage. A two-time winner of the New York State Sportswriter of the Year by the National Sports Media Association, as well as a first-place honoree of the Associated Press Sports Editors, Glauber served as president of the PFWA from 2018-20.
Praise For…
---
"Absolutely remarkable and eye-opening. THE FORGOTTEN FIRST delivers the moving tale of the four men who broke the NFL's color barrier, the trials they endured en route to their groundbreaking moment and beyond, and those who helped make their pursuit successful. The story of Jackie Robinson's breaking of MLB's color barrier is well-documented and celebrated, but amazingly, the saga of Kenny Washington, Woody Strode, Marion Motley, and Bill Willis' quest for equality during this dark time in the history of pro football and the United States remains largely unknown, by even the most diehard NFL fans. Keyshawn Johnson and Bob Glauber's documentation of this breakthrough moment is rich in detail and revelation and is a must-read for football fans and historians." —
Mike Jones, NFL columnist for USA Today
"We've all heard of Jackie Robinson, but this deeply researched story of the overlooked players who reintegrated the NFL is a window into the roots of what would become the country's most popular sport. Johnson and Glauber follow the heartbreaks and victories of the four men who transformed football and amplify the echoes of their careers in the race and diversity issues with which the NFL still grapples today."—
Judy Battista, NFL.com columnist and NFL Network reporter.
"Marion Motley, Bill Willis, Kenny Washington, and Woody Strode played a role in the history of football that's not known by most people. It's as important as any element in football since the game's inception. They helped give Black players an opportunity that was not previously available to them, and they paved the way for kids like me to live a different life. Thanks, Dad, for taking me to Browns games and giving me a chance to dream."—
Tom Jackson, Denver Broncos All Pro linebacker, Emmy award winning broadcaster for ESPN
"The story of these four pioneers and those who helped them reach what was certainly an unreachable star is nothing short of eye-opening. Their courage and determination, while mostly unheralded, was comparable to the very attributes that made Jackie Robinson a true American hero. Readers will feel both inspired and embarrassed, uplifted and ashamed, but that's OK. Thank you, Keyshawn and Bob, for shining a long overdue spotlight."—
Chris Berman, ESPN, National Sports Media Association Hall of Fame
"Keyshawn Johnson and Bob Glauber have collaborated on a significant and important book that details the first African-American players to break the color barrier in pro football. It's an awesome story filled with important issues that still resonate today, and it is not only recommended reading but required reading."—
Adam Schefter, ESPN, author of The Man I Never Met: A Memoir
"I was fortunate enough to have been told stories about these men by my father, and I easily recall the pride in his voice as he educated me about their tremendous feats on the gridiron, about their intellect, and, of course, their courage. Kenny Washington, Woody Strode, Bill Willis, and Marion Motley...enjoy the full measure of these men as illuminated by Keyshawn Johnson and Bob Glauber. I predict that THE FORGOTTEN FIRSTwill quickly be recognized as a seminal book on the history of the NFL—a history that cannot be told without knowing the 'who, what, where, when, and why' of these extraordinary four."—
Charles Davis, NFL on CBS, NFL Network, Madden NFL 22
"Pro football is America's most popular sport, but too few know the deep history of the game. Which is why THE FORGOTTEN FIRST,the oft-bypassed story of the integration of pro football 75 years ago, is a must-read for anyone who loves the game. The pro game was integrated a year before Jackie Robinson became a Dodger, and those first four men to integrate the sport—Kenny Washington, Woody Strode, Bill Willis, Marion Motley—should be on a Mount Rushmore of sports somewhere. This book by Keyshawn Johnson and Bob Glauber is not only a compelling read, it's an important addition to the culture of the game."—
Peter King, NBC Sports
"The professional achievements and personal trials of Black sports icons like Jackie Robinson, Jesse Owens and Althea Gibson have been told and retold. But this illuminating deep dive into the little-known story of these four men who broke the NFL color barrier is an absolute must-read. Keyshawn Johnson and Bob Glauber paint an intimate portrait of the quiet resolve and enduring strength of Kenny Washington, Woody Strode, Marion Motley, and Bill Willis. And in the process, they provide a necessary backdrop to the modern-day athlete's continued quest for empowerment. THE FORGOTTEN FIRSTis a stark reminder of the barriers Black athletes have broken throughout history—and the ceilings still waiting to be shattered."—
Kimberley A. Martin, ESPN
"Johnson and Glauber deliver a towering account of a seminal moment in the history of America's modern-day pastime. The NFL would not exist without Black players, said commissioner Roger Goodell, a truth making THE FORGOTTEN FIRSTan invaluable historical document and a book that should be treasured for as long as the game is played."—
Ian O'Connor, three-time New York Times bestselling author of Belichick
"The promise of the pioneer is to carry the burden of being first. It's such a great honor and enormous responsibility to kick down the door of previously denied access. Greater than this grand expectation for the pioneer is to make an impact that keeps the same door ajar for others to share in promise and opportunity." —
Marcellus Wiley, Pro Bowl defensive end and co-host of FOX Sports Speak for Yourself
"An overdue must-read about four forgotten Black men, every bit as persecuted and every bit as courageous as baseball's Jackie Robinson in the face of shameful NFL bigotry, men who deserve to be remembered forever. Bob Glauber-to-Keyshawn Johnson: TOUCHDOWN!"—
Steve Serby, New York Post columnist
"If readers find inspiration in the narratives of these four athletes, they'll find pain in how much the sports world lost over the years in keeping them and other great Black players from reaching their full potential."—
Booklist
"An enlightening and often anger-inducing documentation of an ugly period in pro football history."—
The Associated Press
"THE FORGOTTEN FIRST is a beautifully written account. The interviews with family members, along with details of the politicking behind the scenes, elevate the manuscript from simply being a sports book to one that touches on America's complicated racial history as well as how it plays out today."—
Los Angeles Times
"This powerful history of the NFL's integration is important, but the book's strength is in connecting that history to the present, and the racism that Black NFL players still face…This account brings much-needed attention to the pioneers who integrated football; a must-read for any football fan interested in digging into the sport's past."
—
Library Journal
Thank you for shopping local!