Embassy of the Dead (Hardcover)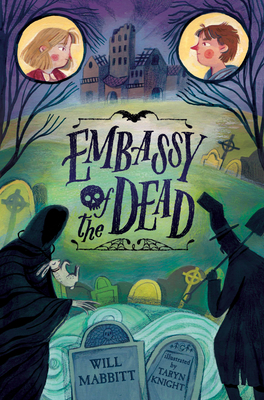 $16.99

Not in the store. We can order it and should have it in store in 3-5 business days.
Description
---
Jake Green is dead. Or he might as well be when he mistakenly accepts a package from the Embassy of the Dead in this hilarious adventure of the afterlife, the first in a series.

When Jake Green opens a mysterious box containing a severed finger, he accidentally summons a grim reaper intent on dragging him to the Eternal Void (yes, it's as fatal as it sounds). Now Jake is running for his life. Luckily, he has a knack for talking to ghosts, which just might help him survive long enough to reach the Embassy of the Dead and plead his case. With the help of a prankster poltergeist and a dead undertaker, Jake dodges fearsome undead creatures, discovers his own ghostly abilities, and gets excused from the school field trip due to a terrible (and made-up) bout of diarrhea. But the Embassy has its own problems, and Jake must be very careful where he places his trust—in both the living and the dead. With a plot that zips and a colorful cast of characters, this delightful new series delivers laughs and shivers in equal measure.
About the Author
---
Will Mabbitt writes. He writes in libraries, in cafes, on the toilet, and sometimes, when his laptop runs out of power, he writes in his head. Before he got paid to do this, he worked in London and spent a lot of time stuck on the train—which is where he wrote his first book,The Unlikely Adventures of Mabel Jones. Will Mabbitt lives with his family somewhere on the south coast of England.
Praise For…
---
This series opener is delightfully spooky, complemented by scratchy black-and-white illustrations...A creepy romp.
—Kirkus Reviews

The story is earnest, spooky, and cheerfully bleak. Those with a taste for dark tales will certainly enjoy following Jake on his gothic adventure.
—The Horn Book

Knight's interspersed illustrations provide flavor and occasional spooks (her illustration of the terrifying bonewulf is particularly chilling), but her red-nosed, round-cheeked characters add whimsy and a fairy-tale flair that keep this macabre tale from creeping into too-scary territory. Perfect for fans of The Graveyard Book (BCCB 10/08) looking for slightly sillier fare, this is sure to be a Halloween hit, with ghouls and boys eagerly awaiting the rest of the promised series.
—Bulletin of the Center for Children's Books

While clearly replete with ghouls and ghasts of all stripes, this British import is creepy but never too scary, and packed with laughs. Occasional excerpts from ghostly guide The Book of the Dead catalog different types of spirits, and enticingly expand the world of this series-starter for curious readers. ­­Recommend for readers looking for a quick-paced, just-spooky-enough romp.
—School Library Journal