North and South: A Tale of Two Hemispheres (Hardcover)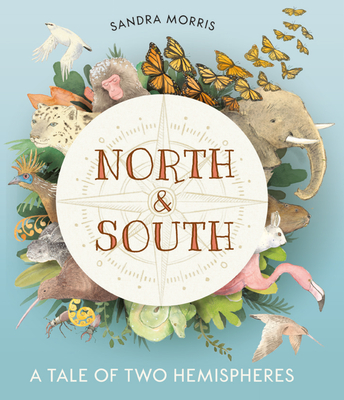 $17.99

Likely on our shelves now
Description
---
Get a fascinating global view of how the animal world adapts to the seasons with this simultaneous look at both Northern and Southern Hemispheres.

In January in the Scottish Highlands, a mountain hare is camouflaged from predators in its white winter coat, while in New Guinea, a bright-green tree python guards her eggs. Come March, a warm Arctic spring lures polar bears out from their den, while in Australia, newly hatched crocodiles go for their first swim inside their mother's jaws. When autumn comes to the north, monarch butterflies start migrating south, just as bar-tailed godwits set off from New Zealand to their breeding grounds on the Alaskan tundra. In a remarkable exploration of animals' lives, Sandra Morris's informative text and beautiful illustrations take readers through the months of the year in both the northern and southern parts of the globe, with an eye to how various species adapt to the changing seasons. Extensive end matter offers further descriptive facts about some twenty-five featured animals.
About the Author
---
Sandra Morris is an award-winning author-illustrator. Her books Sensational Survivors and A New Zealand Nature Journal were both finalists for the New Zealand Book Award and the LIANZA Children's Book Award. She lives in New Zealand.
Praise For…
---
The soft textures used in the illustrations work together with the text, revealing a truth children can grow on. . . . Morris has created an eye-opening introduction to animals in the northern and southern hemisphere: it's not to be missed.
—School Library Journal (starred review)

The author of this book takes the reader through the months of the year with beautiful illustrations of wildlife set against text describing their habitats, life cycles, diet, and other information such as their conservation status. . . . This book could be connected to the classroom curriculum throughout the school year. As the seasons change, it would be interesting to see what is happening to animals in another hemisphere and could be especially useful for helping students understand the seasonal differences of the hemispheres.
—School Library Connection