Forgotten Casualties: Downed American Airmen and Axis Violence in World War II (World War II: The Global) (Hardcover)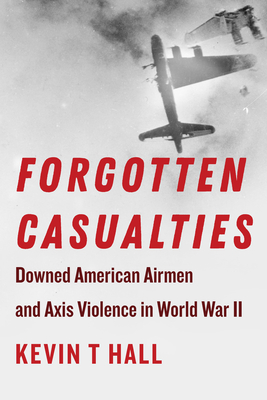 $108.00

Coming Soon - Available for Pre-Order Now
Description
---
Sheds new light on the mistreatment of downed airmen during WWII and the overall relationship between the air war and state-sponsored violence.
Throughout the vast expanse of the Pacific, the remoteness of Southeast Asia, and the rural and urban communities in Nazi-occupied Europe, over 120,000 American airmen were shot down over enemy territory during World War II, thousands of which were mistreated and executed. The perpetrators were not solely fanatical soldiers or Nazi zealots but also ordinary civilians triggered by the death and devastation inflicted by the war. In
Forgotten Casualties
, author Kevin T Hall examines Axis violence inflicted on downed Allied airmen during this global war. Compared to all other armed conflicts, World War II exhibited the most widespread and ruthless violence committed against airmen. Flyers were deemed guilty due to their association with the Allied air forces, and their fate remained in the hands of their often hostile captors. Axis citizens angered by the devastation inflicted by the war, along with the regimes' consent and often encouragement of citizens to take matters into their own hands, resulted in thousands of Allied flyers being mistreated and executed by enraged civilians. Written to help advance the relatively limited discourse on the mistreatment against flyers in World War II,
Forgotten Casualties
is the first book to analyze the Axis violence committed against Allied airmen in a comparative, international perspective. Effectively comparing and contrasting the treatment of POWs in Germany to their counterparts in Japan, Hall's thorough analysis of rarely-seen primary and secondary sources sheds new light on the largely overlooked complex relationship among the air war, propaganda, the role of civilians, and state-sponsored terror during the radicalized conflict. Sources include postwar trial testimonies, Missing Air Crew Reports (MACR), Escape and Evasion reports, perpetrators' explanations and rationalizations for their actions, extensive judicial sources, transcripts of court proceedings, autopsy reports, appeals for clemency, and justifications for verdicts. Drawing heavily on airmen's personal accounts and the testimonies of both witnesses and perpetrators from the postwar crimes trials,
Forgotten Casualties
offers a new narrative of this largely overlooked aspect of Axis violence.
Thank you for shopping local!