How to Quit Alcohol in 50 Days: Stop Drinking and Find Freedom (Paperback)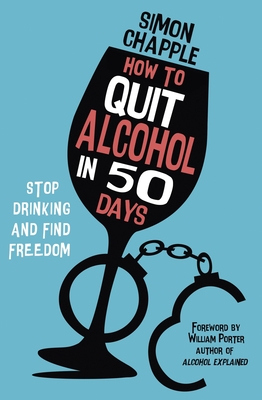 $19.99

Should be on our shelves now -- but wait for confirmation from us before coming to pick up. We'll respond to your order shortly.
Description
---

"The sober life is so superior to the drinking life that there is no contest. But most drinkers have been drinking for many years, or even decades, and find [it] hard to change. The sober coach takes the hand of the reader and shows them the beautiful truth: that alcohol is a pathetic and unpleasant little drug." - William Porter, author of 'Alcohol Explained'

"From designing your own sober toolbox to changing your mindset, Simon shows you the path to set yourself up for success." - Judy C.

DO YOU FEEL TRAPPED BY ALCOHOL?
DO YOU FIND YOURSELF THINKING ABOUT DRINKING TOO OFTEN?
DO YOU PUT ALCOHOL AHEAD OF THE MOST IMPORTANT THINGS IN YOUR LIFE?

If so - here's some good news. You can quit drinking, and it's not as difficult as you think.

Simon Chapple is a Certified Alcohol Coach who has helped thousands of people change the way that alcohol features in their lives. In How to Quit Drinking in 50 Days he'll give you a structured way to find complete freedom from alcohol - for now, or forever.

This 50-day journey to freedom is split into two parts. Days 1-25 will ask you to take an honest look at the impact alcohol has had on your life, to examine the reasons for your drinking, and will arm you with the best strategy for quitting alcohol successfully. Days 26-50 will ask you to make the commitment to taking a break from alcohol - taking each step with one chapter a day, and answering the questions that come up.

There are strategies for dealing with challenges and setbacks, and a wealth of resources for finding support and inspiration. Above all, there is a genuine passion for the sober adventure, and the huge rewards of an alcohol-free life - a life of freedom that's waiting for you.

Download the accompanying workbook from the John Murray Learning Library website, or the free John Murray Learning app.
About the Author
---
Simon Chapple is the founder of Be Sober, one of the largest and fastest-growing online 'quit drinking' communities in the world. If you haven't already joined the Be Sober movement you can do so for free online, simply search 'Be Sober'.

Simon is a senior certified alcohol coach for This Naked Mind, founded by Annie Grace author of the bestselling book This Naked Mind - Control Alcohol and The Alcohol Experiment - A 30-Day, Alcohol-Free Challenge to Interrupt Your Habits and Help You Take Control. He has helped thousands of people explore and change their relationship with alcohol for the long term. He's spoken at live events and appeared on TV and radio on his mission to help educate and inspire people who are wondering what a life without alcohol might look like for them.

He's written his first book, The Sober Survival Guide to help anyone who's concerned about their own relationship with alcohol and thinking about making a change. To do this he's drawn on his considerable life experience, and the experiences of those he's helped, in order to provide real-world advice and tactics that can be used to make a positive change.

Simon's approach is that we should move into sobriety with a sense of excitement and a feeling of joy that we are gaining something special and becoming part of a wonderful community. There is no deprivation, stigma or shame, this is a positive journey of growth and readers should feel empowered that they are making a personal life-choice that allows them to be the authentic version of themselves.

More recently Simon has shared his story about childhood trauma and how this is directly linked to alcoholism. He is currently working on his second book which will address more around exploring the inner child alongside dealing with our addictions.

Simon lives in Surrey in the UK and works with clients all over the world, in between writing he works as an alcohol coach, mainly in group programmes as well as running a successful YouTube channel that shares helpful advice, support, tips and tactics for stopping drinking.

You can connect with Simon on Instagram, Facebook and YouTube.