Delicious Crockpot Recipes: A Full Color Crockpot Cookbook for your Slow Cooker (Paperback)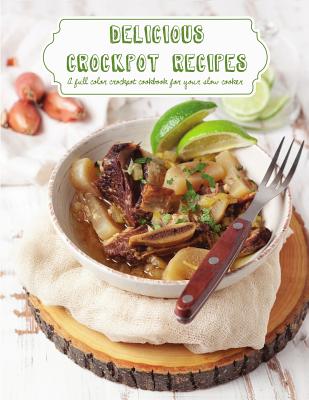 $15.59

Not in the store. We can order it and should have it in store in 3-5 business days.
Description
---
Delicious Crockpot Recipes
A Full Colour Crockpot Cookbook for your Slow Cooker
Do you love delicious, mouth-watering professionally designed crockpot recipes?
Would you like seeing the recipes you are about to cooked in full colour?
Then...
You are probably tired of books with hundred of recipes, difficult to follow, with no pictures at all or low quality images?
Annoyed by the poor quality of the recipes some of the recent slow cooker books are offering?
Are you after something genially new, something that make you wish you would be in your kitchen to start cooking right away?
>>Delicious crockpot recipes is offering what almost no other books in the market are displaying
A full page colour 8.5x11 picture for every recipe.
Perfectly cooked recipes purposely made to get the highest quality picture result to help you achieve the most beautifully made dishes.
Completely new recipes, designed form scratch by full-time experienced chefs.
Full description of numbers of serves per recipe, amount of calories per serve and difficulty.
An introduction for every recipe that will make you long for the day you finally cook it.
A step by step, detailed and as long as required description (not just cut and dump style)
The best cooking tips at the end of each recipe to allow you find the best tricks to finalize it successfully.
Welcome to a wonderfully presented variety of Crockpot Recipes:
Beef Crockpot Recipes
Chicken Slow Cooker Recipes
Fish and Seafood Crock pot Recipes
Pork Slow Cooker Cookbook
Soup Slow Cooker Best Sellers
Stews Crockpot Recipes
Turkey Slow Cooker Recipes
Vegetarian Slow Cooker Recipes
Chili Crock Pot Recipes
Desserts Crockpot Cookbook
How Slow Cooking and Crockpot Recipes will improve your Cooking Life
Are you aware about the process of slow cooking? Do you know that this technique results in more delicious and mouth watering dishes and enhance their nutrition values?
Many of us still do not know about the benefit of longer cooking times. The process had been used for a long time to preserve the nutrients of vegetables and meat which make for a healthy and perfect diet for you and your family. I have strived to include the best recipes that can be made using the same method with easily available ingredients.
Through the pages of the book you can discover-
Amazing recipes prepared using the slow cooking method
Clear instructions to cook crockpot meals
Sumptuous dishes which can be prepared in a short time
The recipes have been specially refined by me and the taste is loved by husband and kids. You can also use them to prepare a happy meal for your family while ensuring that they get their nutrition to the optimum level.
The recipes using the slow cooking method are perfect for house makers and working professionals alike. Just pick one according to the time you have in your hand and enjoy the mouth licking results
Thank you for shopping local!