Property of the Rebel Librarian (Paperback)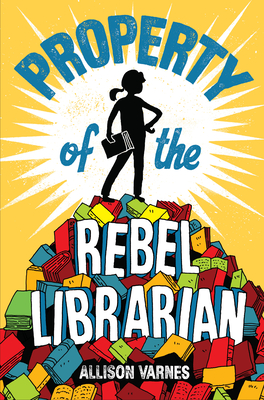 $7.99

Backordered at our distributor but we can check availability from the publisher.
Description
---
Celebrate the freedom to read with this timely, empowering middle-grade debut in the spirit of The View from Saturday or Frindle.

June Harper is a good kid. She follows the rules, plays flute in band, and spends her spare time reading. Nobody would ever call her a rebel . . . until her parents take strict parenting to a whole new level.

It starts with one book deemed "inappropriate" by June's parents. What follows is a massive book ban at Dogwood Middle School, and suddenly everything June loves--the librarian, books, an author visit--is gone. All seems hopeless. Then June discovers a Little Free Library on her walk to school. When her classmates realize she has access to contraband, she (secretly) becomes the most popular girl in school. A risky reading movement begins at Dogwood, which could destroy June--or gain enough power to protect the one thing she cares most about: the freedom to read!

Equal parts fun and empowering, this novel explores censorship, freedom of speech, and activism. For any kid who doesn't believe one person can effect change . . . and for all the kids who already know they can!

"[A] funny and fast read." --School Library Journal
About the Author
---
Like librarian Ms. Bradshaw in Property of the Rebel Librarian, Allison Varnes has fought for her students. She taught English in special education for eight years and once had to convince administrators that The Lion, the Witch and the Wardrobe is not an endorsement of witchcraft. She's from a family of teachers and has a PhD in education from the University of Tennessee. And like heroine June, Allison is a former marching-band geek. When she's not writing, she howls along to the Hamilton soundtrack with a trio of Chihuahuas named after Peanuts characters. Find her on Twitter at @allisonvarnes or on Facebook at facebook.com/allisonvarnesauthor.
Praise For…
---
"In our censorious times, that battle and the extremes through which [the story] is depicted are enough to keep the pages turning. [But] it is the choices that June makes about her own life that give this novel its solidity and meaning."—The New York Times Book Review

"This debut novel tackles the issue of censorship in a humorous and engaging way. June is a worthy and winsome heroine who is sure to charm. . . . This funny and fast read could be used to fuel discussions about book banning, censorship in general, and activism."—School Library Journal

"[Varnes's] take . . . drives home important points about bureaucracy, oversight, and freedom."—Booklist

"An accessible introduction to the importance of the freedom to read."—Kirkus Reviews
Thank you for shopping local!