When the World Feels Like a Scary Place: Essential Conversations for Anxious Parents and Worried Kids (Paperback)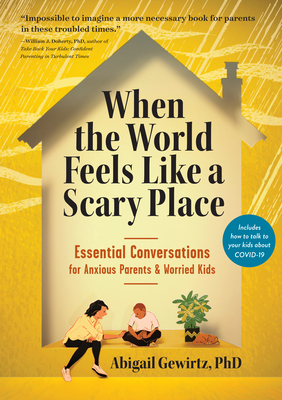 $16.95

Should be on our shelves now -- but wait for confirmation from us before coming to pick up. We'll respond to your order shortly.
Description
---
"A terrific book for parents who want to know how to talk about difficult, emotional issues with children."––Nancy Eisenberg, Regents' Professor of Psychology, Arizona State University 

​Includes how to talk to your kids about COVID-19.

In a lifesaving guide for parents, Dr. Abigail Gewirtz shows how to use the most basic tool at your disposal––conversation––to give children real help in dealing with the worries, stress, and other negative emotions caused by problems in the world, from active shooter drills to climate change.

But it's not just how to talk to your kids, it's also what to say: The heart of When the World Feels Like a Scary Place is a series of conversation scripts––with actual dialogue, talking points, prompts, and insightful asides––that are each age-appropriate and centered around different issues. Along the way are tips about staying calm in an anxious world; the way children react to stress, and how parents can read the signs; and how parents can make sure that their own anxiety doesn't color the conversation. Talking and listening are essential for nurturing resilient, confident, and compassionate children. And conversation will help you manage your anxieties too, offering a path of wholeness and security for everyone in the family. 

"Remarkable... Compelling advice illustrated with memorable case examples."––Ann S. Masten, PhD, Irving B. Harris Professor of Child Development, University of Minnesota 
 
About the Author
---
Dr. Abi Gewirtz is a child psychologist and a leading expert on families under stress. She is a Professor in the University of Minnesota's College of Education and Human Development (ranked the world's third-leading institution of its kind),. Her career has been devoted to developing and testing award-winning, skills-based parenting programs, like the U.S. military After Deployment, Adaptive Parenting Tools/ADAPT, that promote children's resilience. Dr. Gewirtz has published more than 60 articles, book chapters, and a book on parenting and children's resilience. She is Editor in Chief of the International Journal of Psychology, a member of the Executive Committee of the International Union of Psychological Science, and a member of the Board of Directors of the Society for Prevention Research. She has consulted to national and international organizations including the U.S. Congress, and UNICEF, on parenting. She has conducted research in the United States, Asia, the Middle East, and Africa, and has been invited to speak widely, in the U.S. and across the world, on parenting in times of stress. A native of London, England, Dr. Abi resides in Minnesota with her husband and four children.
Praise For…
---
"When the World Feels Like a Scary Place is a much-needed resource to help families navigate anxiety in an uncertain world." - Booklist 

"[When the World Feels Like a Scary Place] equips parents with concrete techniques for broaching sensitive subjects…. [this] guide is essential reading for parents who want to prepare their families to face today's challenges without fear."   - BookPage

"[Dr. Abigail Gewirtz] shows parents how to listen, what to say, and how to say it" - Greater Good Magazine, Best Parenting Books of the Year 

2020 NAUTILUS BOOK AWARDS - Silver, Parenting Family 

2021 SKIPPING STONES HONOR AWARDS - Teaching Resources 

2021 NATIONAL ASSOCIATION FOR GIFTED CHILDREN BOOK OF THE YEAR - Parenting/Caregiver category  

 
Thank you for shopping local!