JFK vs. Allen Dulles: Battleground Indonesia (Paperback)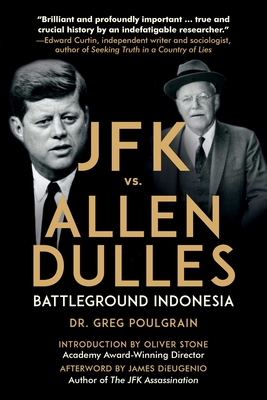 $25.99

Not in the store. We can order it and should have it in store in 3-5 business days.
Description
---
For those interested in the assassination of JFK, the untold story of Indonesia, gold, JFK, Allen Dulles, the CIA, and secret military coups.

Two of the most fascinating figures in history, John F. Kennedy, thirty-fifth president of the United States, and Allen Dulles, our nation's longest-serving CIA director, often clashed over intelligence issues and national security. However, one such conflict has remained in the shadows until now. JFK vs. Allen Dulles: Battleground Indonesia takes reader to the vast archipelago 3350 miles wide where this secret showdown occurred.

In 1936, an Allen Dulles-established company discovered the world's largest gold deposit in remote Netherlands New Guinea. In 1962, President Kennedy intervened, and Netherlands New Guinea was added to President Sukarno's Indonesia. Neither Sukarno nor JFK was aware of the gold, since Dulles had not informed Kennedy.

Dulles planned a complicated and ruthless CIA regime-change strategy to seize control not only of Indonesia itself, but also of its vast resources, including the gold. This strategy included a push to start Malaysian Confrontation. Yet Kennedy's plan to visit Jakarta in early 1964 would have sunk Dulles' master plan, which included the destruction of the Indonesian communist party as a wedge to split Moscow and Beijing. Only an assassin's bullet put an end to Kennedy's plan of peace. Did Allen Dulles arrange for JFK to be killed to save his plan and his gold? Was his coup for gold successful with JFK out of the picture?

Using archival records as a basis, Greg Poulgrain adds word-of-mouth evidence from those people who were directly involved—such as Dean Rusk and others who worked with President Kennedy and Allen Dulles at the time; or the person who was with Michael Rockefeller when he mysteriously disappeared in West New Guinea during this whole affair.
About the Author
---
Academy Award-winning Oliver Stone has written and directed over 25 feature films and 6 documentaries, among them some of the most influential and iconic films of the last decades. Some have been at deep odds with conventional myth— films such as Platoon, Born on the Fourth of July, JFK, Natural Born Killers, Nixon, and Untold History of the United States.
Praise For…
---
 "What did Allen Dulles know that meant JFK and Sukarno both had to go? How did Sukarno's Non-Aligned Movement shake Dulles's Cold War chessboard? How was JFK about to turn it over? Greg Poulgrain blazes the way brilliantly. Follow the dark trail from the world's largest gold deposit, to the murder in Dallas, to the CIA coup and genocide in Indonesia."
—James W. Douglass, author of JFK and the Unspeakable

"Dr. Poulgrain is to be commended for exposing definitively, at long last and despite vehement government denials, the CIA-Suharto alliance that toppled Sukarno in Indonesia, leading to the slaughter of at least half a million innocent people. The template for regime change, reused in Iraq and other conflicts, is laid bare for all to see. Poulgrain's work fills a significant hole in our history—the importance of Indonesia on the large battlefield of interests that put Allen Dulles and John F. Kennedy on a fatal collision course."
—Lisa Pease, author of A Lie Too Big to Fail: The Real History of the Assassination of Robert F. Kennedy

"Brilliant and profoundly important, JFK vs. Allen Dulles: Battleground Indonesia, exposes the ugly truth behind the savage foreign policy secretly enacted by Allen Dulles and the CIA that resulted in the deaths of nearly a million or more Indonesians and the coup d'etat against the Sukarno government. Greg Poulgrain meticulously uncovers another reason why President John Kennedy was the arch-enemy of Dulles and the CIA and why he was assassinated. Intricate and engrossing, this is true and crucial history by an indefatigable researcher."
—Edward Curtin, independent writer and sociologist, author of Seeking Truth in a Country of Lies
Thank you for shopping local!