Disney Princess: Beyond the Extraordinary (Paperback)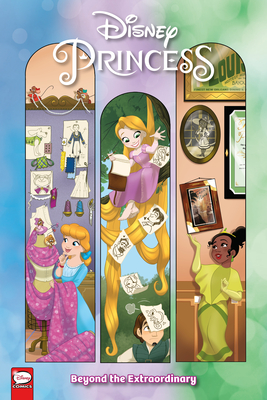 $10.99
Alas, not available through us.
Description
---
Short comics stories filled with fun and cheer in the different lives of all the Disney Princesses!

Come along with the Princesses as they navigate a variety of situations to bring you laughter and delight. There's never a shortage of royal duties for Cinderella to tend to, even the tiniest of friends can use her expertise. Rapunzel's blunder becomes everyone else's reward when she tries cooking a new recipe. And Moana's got a thing or two to say about how the coconut puts the super in superfruit. The Disney Princesses are here to teach, inspire, and entertain with their spirited antics and deeds!

This collection of short comic stories by Amy Mebberson (Disney Princess Comic Strips, My Little Pony) is formatted in portrait orientation and includes a few never-before-published stories!
About the Author
---
Amy Mebberson is a comic artist, toy designer, fine artist and illustrator with the Walt Disney Company and its licensees, including Hasbro, Walt Disney Publishing, Dark Horse Comics and IDW.

Amy is most well known for her work on the Disney Princesses in comic books, licensed fine art and Hasbro toy design. She has also produced comics and storybooks for Muppets, Pixar, Wreck-it Ralph and many other non-Disney titles including My Little Pony, Sesame Street and Strawberry Shortcake. Amy is also the creator of the popular fan comic 'Pocket Princesses'.

Amy lives in Southern California and spends far too much time at Disneyland.
Thank you for shopping local!