Apoca Lips (The Xanth Novels) (Paperback)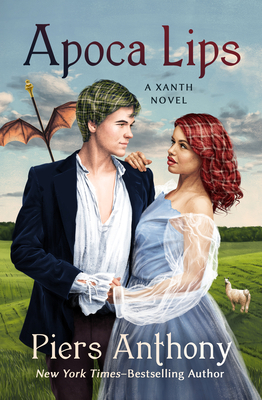 $16.99

Not in the store. We can order it and should have it in store in 3-5 business days.
Description
---
No one's safe when a pundemic spreads through the land of Xanth in this madcap adventure from the New York Times–bestselling author.
 
What's a single prince to do when confronted with the baton of protagonism? Why, become the hero of his own story of course! And in Xanth that usually means embarking on a quest. For Prince Nolan Naga, there's only one thing missing from his life: a wife. He needs a royal match by the time he assumes the throne. But to make sure he lands the right spouse, he must consult with the Good Magician.
 
After completing the three challenges necessary to see the Good Magician, Nolan learns that the ideal bride for him does exist. She is Apoca of the Lips Tribe. From the Queendom of Thanx—a matriarchy that is the opposite of Xanth—she is a formidable woman, one whose very kiss can seduce a man into love slavery. But before a happily ever after, they'll have to team up to put an end to a curse that's causing every baby in Xanth to be born with the same magical talent, all while navigating through a realm plagued by endless puns. It could be the end of the world as we know it . . .
 
Praise for Piers Anthony
 
"Piers Anthony is one of those authors who can perform magic with the ordinary. . . . [He] is a craftsman." —A Reader's Guide to Science Fiction
 
"Anthony's unflagging sparkle, verve and wordplay spin everyday trials of Mundane life into storytelling gold." —Publishers Weekly
About the Author
---
Piers Anthony is one of the world's most popular fantasy writers, and a New York Times–bestselling author twenty-one times over. His Xanth novels have been read and loved by millions of readers around the world, and he daily receives letters from his devoted fans. In addition to the Xanth series, Anthony is the author of many other bestselling works. He lives in Inverness, Florida.