Summary and Analysis of the Handmaid's Tale: Based on the Book by Margaret Atwood (Smart Summaries) (Paperback)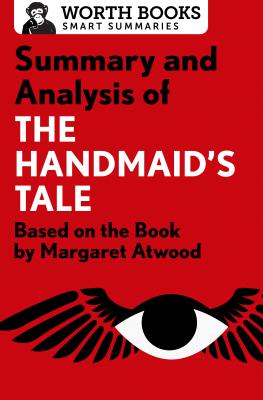 $5.99

Not in the store. We can order it and should have it in store in 3-5 business days.
Description
---
So much to read, so little time? This brief overview of The Handmaid's Tale tells you what you need to know--before or after you read Margaret Atwood's book.

Crafted and edited with care, Worth Books set the standard for quality and give you the tools you need to be a well-informed reader.

This short summary and analysis of The Handmaid's Tale by Margaret Atwood includes:

Historical context
Part-by-part summaries
Analysis of the main characters
Themes and symbols
Important quotes
Fascinating trivia
Glossary of terms
Supporting material to enhance your understanding of the original work

About Margaret Atwood's The Handmaid's Tale

Margaret Atwood's dystopian literary masterpiece tells the story of Offred, a Handmaid living in the near future in what was once the United States. A new theocratic regime called the Republic of Gilead has come to power and changed life as she knew it.

Once Offred had a her own name and a loving family--a husband and daughter--both of which were taken from her; now she belongs to the Commander and his hostile wife, and her only value lies in her ability to bear a child for them. She used to read books and learn; now such things are forbidden to all women.

Gripping, disturbing, and so relevant today, The Handmaid's Tale is a brilliant novel and a chilling warning about what can happen when extreme ideas are taken to their logical conclusions.

The summary and analysis in this book are intended to complement your reading experience and bring you closer to a great work of fiction.
About the Author
---
Worth Books' smart summaries get straight to the point and provide essential tools to help you be an informed reader in a busy world, whether you're browsing for new discoveries, managing your to-read list for work or school, or simply deepening your knowledge. Available for fiction and nonfiction titles, these are the book summaries that are worth your time.