People Person (Hardcover)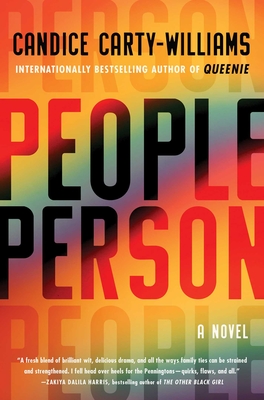 $27.99

Should be on our shelves now -- but wait for confirmation from us before coming to pick up. We'll respond to your order shortly.
September 2022 Indie Next List
---
"Meet the Penningtons: Five siblings from four mothers, raised in London with no support from their father and with vastly different backgrounds. Somehow, they mesh. People Person makes their growing bond a hilarious triumph of family."
— Myles Mickle, Village Square Booksellers, Bellows Falls, VT
Description
---
The author of the "brazenly hilarious, tell-it-like-it-is first novel" (Oprah Daily) Queenie returns with another witty and insightful novel about the power of family—even when they seem like strangers.

If you could choose your family...you wouldn't choose the Penningtons.

Dimple Pennington knows of her half siblings, but she doesn't really know them. Five people who don't have anything in common except for faint memories of being driven through Brixton in their dad's gold jeep, and some pretty complex abandonment issues. Dimple has bigger things to think about.

She's thirty, and her life isn't really going anywhere. An aspiring lifestyle influencer with a terrible and wayward boyfriend, Dimple's life has shrunk to the size of a phone screen. And despite a small but loyal following, she's never felt more alone in her life. That is, until a dramatic event brings her half siblings Nikisha, Danny, Lizzie, and Prynce crashing back into her life. And when they're all forced to reconnect with Cyril Pennington, the absent father they never really knew, things get even more complicated.

From an author with "a flair for storytelling that appears effortlessly authentic" (Time), People Person is a vibrant and charming celebration of discovering family as an adult.
About the Author
---
Candice Carty-Williams is a writer and the author of the Sunday Times (London) bestselling Queenie, which has been shortlisted by Goodreads for book of the year in 2019. In 2016, Candice created and launched the Guardian 4th Estate BAME Short Story Prize, the first inclusive ini­tiative of its kind in book publishing. Candice has written for The Guardian, i-D, Vogue, every itera­tion of The Sunday Times (London), Beat magazine, Black Ballad, and more. She will probably always live in South London. Follow her on Twitter and Instagram @CandiceC_W.
Praise For…
---
"Fresh, funny, poignant—of the moment."—Oprah Daily

"A dark comedy, full of zinging dialogue, vivid characters and all the consolations and complications of family. A treat." —Jesse Armstrong, creator of Succession

"Candice Carty-William's sophomore novel is a charming delight. Here is a big-hearted story about five siblings who find a way to become a family despite the absence of their itinerant father... An incredibly satisfying read."—Roxanne Gay, New York Times Bestselling author of Hunger



"A hilarious romp." —Oprah Quarterly

"A big-hearted story of a young woman coming to terms with her complicated London family from the author of the game-changing Queenie." —The Guardian

"The ambition behind Carty-Williams's novel calls to mind what Zadie Smith brought to her first novel, 'White Teeth.' And to some extent, Carty-Williams is to south London what Smith is to the north: a sharp, humorous voice that paints greater London's Black communities with the nuance they deserve."—Washington Post

"A darkly comedic novel of family… As heartfelt as it is hilarious. Carty-Williams probes hard questions about race, microaggressions and abandonment within a larger, somehow softer story about what makes a family, what makes a friend and what happens when the two are one and the same." —Shelf Awareness

"...A big-hearted reminder that a messy family is still a family." —Time Magazine

"People Person is more than just the title of this phenomenal second novel. It's a statement of intent. It's a declaration that when Candice Carty-Williams writes, she captures the hearts and minds of readers everywhere." —Melissa Cummings-Quarry, Black Girls Book Club

"People Person is a triumph. I was so moved by this tender, often humorous, portrait of these five siblings, their burgeoning relationships and all their complexities. I loved every one of these beautifully rendered characters and I'm sure the world will too. I couldn't put it down." —Caleb Nelson, author of Open Water

"Wonderful. People Person is about 5 half-siblings (1 dad, 4 mothers) who, in response to a crisis, meet as adults and start shaping themselves into a family. It's a warm novel, funny and full of emotional intelligence. The tone is light-hearted, even comic at times, but underneath there's an undertow, a steady drumbeat reminding us of all the microaggressions black people experience on a daily basis - and that white people are mostly oblivious of. I cannot recommend it highly enough." —Marian Keyes

"People Person is a portrait of a family that is as poignant as it is hilarious. It had me belly-laughing, then picking up my jaw from the floor, then nodding in delighted agreement. Candice is a writer who is not only revealing modern Britain with each of her novels; she is defining it. Cyril Pennington is a character for the ages, but this story truly belongs to the children he never managed to parent. I loved it." —Sara Collins

"I loved People Person. Candice is so gifted at pulling you in as a writer. The storyline is hugely arresting and I was gripped immediately. Candice is remarkably perceptive in the way she writes people; her characters that are so well drawn, and so believable. When I wasn't reading People Person I was thinking about it and I had to finish it at the earliest opportunity." —Annie Mac