Pharma: Greed, Lies, and the Poisoning of America (Hardcover)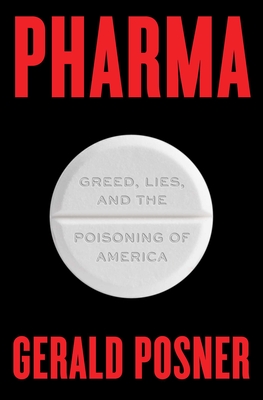 $35.00

Backordered at our distributor but we can check availability from the publisher.
Description
---
BEST BOOKS OF MARCH - APPLE BOOKS
TOP TEN PICKS FOR MARCH BOOKS - CHRISTIAN SCIENCE MONITOR
BEST TRUE CRIME PICKS IN MARCH - CRIMEREADS
MOST ANTICIPATED BOOKS OF 2020 - LITHUB

Award-winning journalist and New York Times bestselling author Gerald Posner traces the heroes and villains of the trillion-dollar-a-year pharmaceutical industry and uncovers how those once entrusted with improving life have often betrayed that ideal to corruption and reckless profiteering—with deadly consequences.

Pharmaceutical breakthroughs such as anti­biotics and vaccines rank among some of the greatest advancements in human history. Yet exorbitant prices for life-saving drugs, safety recalls affecting tens of millions of Americans, and soaring rates of addiction and overdose on pre­scription opioids have caused many to lose faith in drug companies. Now, Americans are demanding a national reckoning with a monolithic industry.

Pharma introduces brilliant scientists, in-corruptible government regulators, and brave whistleblowers facing off against company exec­utives often blinded by greed. A business that profits from treating ills can create far deadlier problems than it cures. Addictive products are part of the industry's DNA, from the days when corner drugstores sold morphine, heroin, and cocaine, to the past two decades of dangerously overprescribed opioids.

Pharma also uncovers the real story of the Sacklers, the family that became one of America's wealthiest from the success of OxyContin, their blockbuster narcotic painkiller at the center of the opioid crisis. Relying on thousands of pages of government and corporate archives, dozens of hours of interviews with insiders, and previously classified FBI files, Posner exposes the secrets of the Sacklers' rise to power—revelations that have long been buried under a byzantine web of interlocking companies with ever-changing names and hidden owners. The unexpected twists and turns of the Sackler family saga are told against the startling chronicle of a powerful industry that sits at the intersection of public health and profits. Pharma reveals how and why American drug com­panies have put earnings ahead of patients.
About the Author
---
Gerald Posner is an award-winning journalist who has written twelve books, including the Pulitzer Prize finalist Case Closed and multiple national bestsellers. His 2015 book, God's Bankers, a two-hundred-year history of the finances of the Vatican, was an acclaimed New York Times bestseller. Posner has written for many national magazines and papers, including The New York Times, The New Yorker, Newsweek, and Time, and he has been a regular contributor to NBC, the History Channel, CNN, CBS, MSNBC, and FOX News. He lives in Miami Beach with his wife, author Trisha Posner.
Praise For…
---
"A withering and encyclopedic indictment of a drug industry that often seems to prioritize profits over patients . . . Pharma reads like a pharmaceutical version of cops and robbers." —New York Times Book Review

"New information, coupled with Gerald's dogged reporting, sets Pharma apart from all books on this subject." —The Washington Standard

"You know the old saying: Timing is everything. That is certainly the case with Gerald Posner . . . . The timing of Pharma is extraordinary." —Dallas Morning News

"Explosively, even addictively, readable . . . Fraud, incompetence, conspiracy, avarice: it's all here." —Booklist (starred review)

"I could not put down Gerald Posner's Pharma, the definitive story of how one family, the Sacklers, set out to get exquisitely rich on the back of unsuspecting Americans—then blamed the so-called 'abusers' instead of their own highly addictive drug. Posner has unearthed important new material that illuminates our national tragedy, crafting a meticulously reported page-turner that is as juicy as it is clear-eyed." —Beth Macy, New York Times bestselling author of Dopesick

"A shocking, rousing condemnation of an industry clearly in need of better policing." —Kirkus

"Extensive, meticulous research . . . Posner leaves no stone unturned." —Library Journal

"Posner has created a medical leviathan for our times." —LitHub

PRAISE FOR GOD'S BANKERS

"A dogged reporter exhaustively pursues the nefarious enrichment of the Vatican, from the Borgias to Pope Francis. . . . A meticulous work that cracks wide open the Vatican's legendary, enabling secrecy." —Kirkus

"A fast-paced read that brings history alive on every page. The book will captivate those who prefer their historical nonfiction spiked with real-life tales of murder, power, and intrigue."—Booklist

"Posner uses his superlative investigative skills to craft a fascinating and comprehensive look at the dark side of the Catholic Church. . . . Accessible and well written, Posner's is the definitive history of the topic to date." —Publishers Weekly (starred)

"A highly anticipated book, the result of a nine year investigation by author Gerald Posner. It reads like Robert Ludlow's fiction [and] paints a picture of murder, double-dealing, and fraud surrounding the bank." —Michael Smerconish, CNN

"A stunning exposé by investigative reporter Gerald Posner. As exciting as a mystery thriller." —Providence Journal

"Expertly shows that theory and conjecture aren't necessary when the real-life narrative is compelling enough. . . . Posner's history of the institution reads like a sprawling novel, full of complex characters and surprising twists. . . . Readers interested in issues involving religion and international finance will find Posner's work a compelling read." —Library Journal

"God's Bankers is often fascinating reading, full of international intrigue. . . . God's Bankers is meticulously researched. Almost 200 pages of end notes indicate the care Posner took in nine years spent researching his subject. . . . The book tells a compelling story, but never at the expense of journalistic principles. Posner might speculate, but he is always careful to mark it as such, and to point out the facts and primary sources that support or undermine the speculation. . . . His work pulls together existing scholarship and massive amounts of original research to present the closest thing to a definitive account of the workings of money and finance within the Vatican that could be produced without cooperation from the Vatican itself." —Washington Independent Review of Books
Thank you for shopping local!