The Reapers: A Charlie Parker Thriller (Paperback)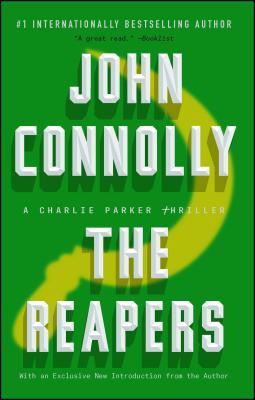 $18.00

Not in the store. We can order it and should have it in store in 3-5 business days.
Other Books in Series
This is book number 7 in the Charlie Parker series.
Description
---
Darkly brilliant and intuitive private detective Charlie Parker returns in the next thrilling installment of the New York Times bestselling series by John Connolly about an elite group of killers.

The Reapers are the elite of killers, the best at their trade, and Louis, confidante of troubled private detective Charlie Parker, is one of their number. Now the sins of his past are about to be visited upon him, for someone is hunting Louis, targeting his home, his businesses, and his partner, Angel. The instrument of his revenge is Bliss, the killer of killers, the most feared of assasins, and a man with a personal vendetta against Louis.

But when Louis and Angel decide to strike back, they disappear, and their friends are forced to band together to find them. They are led by Parker, a killer himself, a reaper in waiting...

The harvest is about to begin.
About the Author
---
John Connolly is the author of the Charlie Parker series of thrillers, the supernatural collection Nocturnes, the Samuel Johnson Trilogy for younger readers, and (with Jennifer Ridyard) the Chronicles of the Invaders series. He lives in Dublin, Ireland. For more information, see his website at JohnConnollyBooks.com, or follow him on Twitter @JConnollyBooks.
Praise For…
---
"Connolly has crafted one of the most darkly intriguing books this reviewer has encountered in more than three decades of reading crime fiction. Never less than graceful and assured, his writing is often lyrical, but in his portrait of the Fulci brothers, he employs humor and panache that recalls Trevanian at his snarkiest. To call this a page-turner is to damn it with faint praise. Veteran crime fans will want to savor every note-perfect word." --Booklist (Starred Review)

"A definite nail-biter." --Pittsburgh Post-Gazette

"This latest offering from Connolly is as dark and convoluted as his previous novels and just as enjoyable." --Library Journal

"A lightning strike of a novel. He couldn't write a boring book if you put a gun to his head."--Rocky Mountain News (Grade A review)

" Connolly is as much amaster of probing psyche and motivation as he is in plot construction and language. " --Albuquerque Journal

"A master at the intensely dark thriller with undertones of the western and horror novels....Connolly imbues his novels with a prose so rich that he invests a kind of poetry in his violent tales." --South Florida Sun-Sentinel (Fort Lauderdale)

"Better than just about anything else out there. His is a name to remember." --The Anniston Star (Alabama)

"Connolly, as befits his Irish heritage, is a fine storyteller and manages to weave his tale in dark and compelling language...The book succeeds as a thriller....Fans of Clint Eastwood or Charles Bronson movies will love it." -- The Tampa Tribune

"Connolly has set the bar high in each of his pitch-dark stories. The Reapers, written in a prose so rich that there is a kind of poetry in the violence, more than lives up to the standard." --Pittsburgh Tribune

"'The Reapers' sets the standard in noir...Connolly imbues his novels with a prose so rich that he invests a kind of poetry in his violent tales." --The Myrtle Beach Sun-News (South Carolina)

"[The Reapers] is as taut and tense as anything John Connolly has served up previously...Connolly accelerates the action in a truly masterful manner." --Evening Herald(Ireland)

"Uncommonly fine,supple, sensuous prose… these dark, violent, volatile books work brilliantly within the genre while consistently provoking and subverting it. An utterly compelling tale of mystery and imagination." --The Irish Times

"The Reapers fairly crackles with menace; the portrayal of serious-minded individuals utterly intent on completing their dark objectives is masterly. The author has adapted and blended elements of both the neo-noir and gothic tradition to produce a stylish piece, from which a darkly laconic sense of humour protrudes like a razorblade from an apple. In Connolly's world, sentimentality gets abducted from outside a porno cinema and mercilessly pistol-whipped in a dank basement.The Reapers is all the better for it." --The Sunday Business Post (Ireland)
Thank you for shopping local!