A Doll's House (Paperback)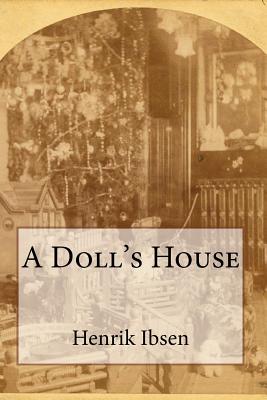 $5.75

Not in the store. We can order it and should have it in store in 3-5 business days.
Description
---
A Doll's House, written two years after The Pillars of Society, was the first of Ibsen's plays to create a sensation and is now perhaps his most famous play, and required reading in many secondary schools and universities. The play was highly controversial when first published, as it is sharply critical of 19th Century marriage norms. It follows the formula of well-made play up until the final act, when it breaks convention by ending with a discussion, not an unravelling. It is often called the first true feminist play, although Ibsen denied this. A Doll's House was based on the life of Laura Kieler (maiden name Laura Smith Petersen), a good friend of Ibsen. Much that happened between Nora and Torvald happened to Laura and her husband, Victor. Similar to the events in the play, Laura signed an illegal loan to save her husband. She wanted the money to find a cure for her husband's tuberculosis. She wrote to Ibsen, asking for his recommendation of her work to his publisher, thinking that the sales of her book would repay her debt. At his refusal, she forged a check for the money. At this point she was found out. In real life, when Victor discovered about Laura's secret loan, he divorced her and had her committed to an asylum. Two years later, she returned to her husband and children at his urging, and she went on to become a well-known Danish author, living to the age of 83. Ibsen wrote A Doll's House at the point when Laura Kieler had been committed to the asylum, and the fate of this friend of the family shook him deeply, perhaps also because Laura had asked him to intervene at a crucial point in the scandal, which he did not feel able or willing to do. Instead, he turned this life situation into an aesthetically shaped, successful drama. In the play, Nora leaves Torvald with head held high, though facing an uncertain future given the limitations single women faced in the society of the time. Kieler eventually rebounded from the shame of the scandal and had her own successful writing career while remaining discontented with sole recognition as "Ibsen's Nora" years afterwards.
About the Author
---
Henrik Johan Ibsen (20 March 1828 - 23 May 1906) was a major 19th-century Norwegian playwright, theatre director, and poet. He is often referred to as "the father of realism" and is one of the founders of Modernism in theatre. His major works include Brand, Peer Gynt, An Enemy of the People, Emperor and Galilean, A Doll's House, Hedda Gabler, Ghosts, The Wild Duck, Rosmersholm, and The Master Builder. He is the most frequently performed dramatist in the world after Shakespeare, and A Doll's House became the world's most performed play by the early 20th century.