An American Beauty: A Novel of the Gilded Age Inspired by the True Story of Arabella Huntington Who Became the Richest Woman in the Country (Paperback)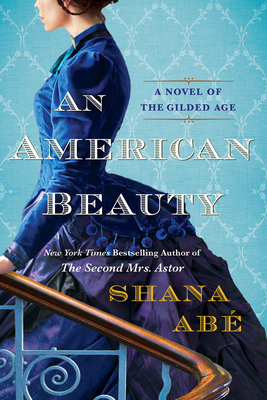 $16.95

Not in the store. We can order it and should have it in store in 3-5 business days.
Description
---
"Abé is an exquisite storyteller." —Fiona Davis, New York Times bestselling author of The Magnolia Palace

The New York Times bestselling author of The Second Mrs. Astor returns with a spellbinding new book perfect for fans of HBO's The Gilded Age and readers of Marie Benedict, Karen Harper, and Allison Pataki. This sweeping novel of historical fiction is inspired by the true rags-to-riches story of Arabella Huntington—a woman whose great beauty was surpassed only by her exceptional business acumen, grit, and artistic eye, and who defied the constraints of her era to become the wealthiest self-made woman in America.

1867, Richmond, Virginia: Though she wears the same low-cut purple gown that is the uniform of all the girls who work at Worsham's gambling parlor, Arabella stands apart. It's not merely her statuesque beauty and practiced charm. Even at seventeen, Arabella possesses an unyielding grit, and a resolve to escape her background of struggle and poverty.

Collis Huntington, railroad baron and self-made multimillionaire, is drawn to Arabella from their first meeting. Collis is married and thirty years her senior, yet they are well-matched in temperament, and flirtation rapidly escalates into an affair. With Collis's help, Arabella eventually moves to New York, posing as a genteel, well-to-do Southern widow. Using Collis's seed money and her own shrewd investing instincts, she begins to amass a fortune.

Their relationship is an open secret, and no one is surprised when Collis marries Arabella after his wife's death. But "The Four Hundred"—the elite circle that includes the Astors and Vanderbilts—have their rules. Arabella must earn her place in Society—not just through her vast wealth, but with taste, style, and impeccable behavior. There are some who suspect the scandalous truth, and will blackmail her for it. And then there is another threat—an unexpected, impossible romance that will test her ambition, her loyalties, and her heart . . .

An American Beauty brings to vivid life the glitter and drama of a captivating chapter in history—and a remarkable woman who lived by her own rules.

"This story of one woman's ascent offers a fascinating look at the choices she made to become a Gilded Age titan."— Kirkus Reviews
About the Author
---
Shana Abé is the award-winning, New York Times, Wall Street Journal, and USA Today bestselling author of more than a dozen novels, including The Second Mrs. Astor and An American Beauty. She has a Bachelor of Fine Arts degree from the University of Southern California, and currently lives in the mountains of Colorado. Visit her online at ShanaAbe.com.
Praise For…
---
Praise for An American Beauty

"This is an interesting examination of a lesser-known figure from the Gilded Age, one whose story extends beyond the confines of late-19th-century New York…This story of one woman's ascent offers a fascinating look at the choices she made to become a Gilded Age titan." —Kirkus Reviews


Praise for The Second Mrs. Astor

"Historical fiction at its finest…with deep character perspective…engaging and intricate detail…passages [that] are brilliantly written and both gut-wrenching and heart-breaking to read." —The Florida Times-Union

"An unexpectedly affecting interpretation." —The Toronto Star

"An engaging tale. Abé richly describes the scenery. Everything is opulent, decadent, rich. We're taken from the shores of Maine to bustling New York City, Egypt, and eventually, aboard the Titanic where their romance meets a tragic end in the icy waters. As the story crescendos to that fateful night, readers will remain captivated by both the imagery and the plot… This is more than another tale about the Titanic, it's a love story, a drama, and a fine historical novel. Recommended." —Historical Novels Review

"Abé is an exquisite storyteller, gracefully transporting the reader from Newport to Egypt to the cold seas of the Atlantic. Rich in detail and deeply moving." —Fiona Davis, New York Times bestselling author of The Lions of Fifth Avenue  
 
"One of the most beautifully written books I've ever had the pleasure to read. You'll find yourself glued to every page, falling in love with this dazzling couple, and despite knowing better, hoping against hope that they avoid the tragedy that awaits them on the ill-fated Titanic. A gorgeous, phenomenal novel I won't soon forget." —Ellen Marie Wiseman New York Times bestselling Author of The Orphan Collector
 
"A touching, compelling, and haunting love story that will delight fans of historical fiction and enthrall those of us for whom the Titanic will always fascinate." —Hazel Gaynor, New York Times bestselling author of When We Were Young and Brave
 
"An engaging novel told with both heartbreaking care and vivid detail. Shana Abé introduces us to the extraordinary Madeleine Astor and her profound love for the enigmatic and famous Jack Astor. Abé's intimate prose brings to life a fascinating and heartbreaking piece of history. A harrowing and yet ultimately hopeful tale of survival and courage, fate and love, and the ultimate question of who do we become after great loss. The Second Mrs. Astor is historical fiction at its gripping and irresistible best." —Patti Callahan , New York Times bestselling author of Surviving Savannah and Becoming Mrs. Lewis