The Candy House: A Novel (Hardcover)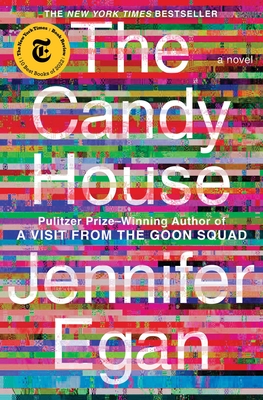 $28.00

Likely on our shelves now
April 2022 Indie Next List
---
"Egan weaves together these seemingly disparate characters and storylines into a stunning ending. The Candy House is about family, connection, legacy, technology, and so much more. It is her best work yet."
— Ariana Paliobagis, Country Bookshelf, Bozeman, MT
Description
---
One of Barack Obama's Summer Favorites!
An NPR Top Pick for 2022!

Named a Most Anticipated Book of the Year by Time, Entertainment Weekly, Vogue, Good Housekeeping, Oprah Daily, Glamour, USA TODAY, Parade, Bustle, San Francisco Chronicle, The Seattle Times, The Boston Globe, Tampa Bay Times, BuzzFeed, and Vulture

"A compelling read that showcases Egan's masterful storytelling." —Time
"Dazzling." —Vogue
"Radiant, exhilarating." —Slate
"Mesmerizing…A thought-provoking examination of how and why we change." —People

From one of the most celebrated writers of our time comes an "inventive, effervescent" (Oprah Daily) novel about the memory and quest for authenticity and human connection.

The Candy House opens with the staggeringly brilliant Bix Bouton, whose company, Mandala, is so successful that he is "one of those tech demi-gods with whom we're all on a first name basis." Bix is forty, with four kids, restless, and desperate for a new idea, when he stumbles into a conversation group, mostly Columbia professors, one of whom is experimenting with downloading or "externalizing" memory. Within a decade, Bix's new technology, "Own Your Unconscious"—which allows you access to every memory you've ever had, and to share your memories in exchange for access to the memories of others—has seduced multitudes.

In the world of Egan's spectacular imagination, there are "counters" who track and exploit desires and there are "eluders," those who understand the price of taking a bite of the Candy House. Egan introduces these characters in an astonishing array of narrative styles—from omniscient to first person plural to a duet of voices, an epistolary chapter, and a chapter of tweets. Intellectually dazzling, The Candy House is also a moving testament to the tenacity and transcendence of human longing for connection, family, privacy, and love.

"A beautiful exploration of loss, memory, and history" (San Francisco Chronicle), "this is minimalist maximalism. It's as if Egan compressed a big 19th-century novel onto a flash drive" (The New York Times).
About the Author
---
Jennifer Egan is the author of six previous books of fiction: Manhattan Beach, winner of the Andrew Carnegie Medal for Excellence in Fiction; A Visit from the Goon Squad, which won the Pulitzer Prize and the National Book Critics Circle Award; The Keep; the story collection Emerald City; Look at Me, a National Book Award Finalist; and The Invisible Circus. Her work has appeared in The New Yorker, Harper's Magazine, Granta, McSweeney's, and The New York Times Magazine. Her website is JenniferEgan.com.
Praise For…
---
Praise for The Candy House

"Because it's Jennifer Egan, it's a really beautifully written book. And I loved every moment of it."
—Natalie Escobar, NPR

"As the right to privacy continues to be under threat and assault, from our legislatures to our courts, I am looking forward to Egan's reflections — through her story — on what that could mean for our future."
—Chelsea Clinton, Politico

"The Candy does what only the best and rarest books can: peel back the thin membrane of ordinary life, and find transcendence on the other side." —Leah Greenblatt, Entertainment Weekly

"The Candy House is bursting with stories, thick with beating hearts…Egan's writing dazzles." —Maggie Galehouse, Houston Chronicle "May be the smartest novel you read all year… Fiction at its best ..gets at our secret selves in ways the internet can't… Egan's audacity is welcome." —Mark Athitakis, USA Today

"Radiant… an exhilarating delight…Egan opens windows on entrancing new worlds, in which what happened depends on who's telling the story." —Laura Miller, Slate "This is a beautiful exploration of loss, memory and history, a not too subtle critique of what is lost when we live our lives online." —Allison Arieff, The San Francisco Chronicle

"You don't have to read A Visit From the Goon Squad to love this sibling novel to Egan's stellar hit…complex and intimate." —Good Housekeeping

"Rich in indelible characters…full of humor and heartbreak and insight about our brave new world…Egan's subtle attention to the distinctive voices of her many characters is remarkable." —Colette Bancroft, Tampa Bay Times "For Egan, getting it right has to do with fulfilling a reader's craving —for mystery and imagination, as opposed to the barrage of information we find much easier to access." —Lynn Steger Strong, Los Angeles Times

"A brilliant demonstration of the unquantifiable pleasures of great fiction."
—Ron Charles, The Washington Post

"The Candy House is a brilliant portrait of intersecting lives." —Annalisa Quinn, NPR

"Like a well-curated playlist, The Candy House uses chapter breaks to switch perspectives and tempos without killing the mood, and each sensuous little story feels like a peek through the blinds at people whose larger journeys we can only guess at." —Patrick Rapa, The Philadelphia Inquirer "Sometimes…you pick up a novel and it makes your skin prickle. Jennifer Egan's new one, The Candy House, is one of these novels. This is minimalist maximalism. It's as if Egan compressed a big 19th-century triple-decker novel onto a flash drive… Egan goes all in on the power of storytelling and of fiction." —Dwight Garner, The New York Times "A fast-paced polyvoiced romp thru America in the grip of a sinister tech that allows others into your mind. EEK!" —Margaret Atwood, author of The Handmaid's Tale and The Testaments "A complex, compelling read that showcases Egan's masterful storytelling." —Time "A multi-narrator masterpiece about searching for meaning in a crazy world." —Entertainment Weekly "Dazzling" —Vogue "Inventive, effervescent… Egan plaits multiple narratives and techniques to underscore the manifold ways our own desires betray us in a brave new coded world." —Oprah Daily "Very funny, penetrating, and impactful." —Glamour
Thank you for shopping local!