Leonard Cohen: The Mystical Roots of Genius (Hardcover)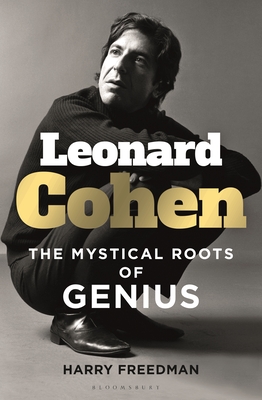 $28.00

Not in the store. We can order it and should have it in store in 3-5 business days.
Description
---
A spellbinding and unorthodox look into the life of Leonard Cohen, and the way his experiences with religion and spirituality produced one of the greatest musicians of our time.

Leonard Cohen's music is studded with allusions to Jewish and Christian tradition, as well as Kabbalah and Zen. In his 1994 classic 'Hallelujah' he opens with the words 'Now I've heard there was a secret chord, That David played, and it pleased the Lord… the baffled king composing Hallelujah'. As the song progresses, Cohen takes us on a tour of the Old Testament, he sings of Samson having his hair cut by Delilah, Moses asking God's name and we even meet the blasphemer from the Book of Leviticus.

This book is about the ethos, origins and traditions in Cohen's lyrics. His grandfather was a Rabbi. He had grown up in an observant Jewish family; one with problems. His father died when he was nine, his mother suffered from depression and he himself underwent prolonged dark periods. His Irish catholic nanny took him to Church. He was as familiar with Christian traditions as he was Jewish. In his early works indeed he seemed more engaged with Christianity than with Judaism. But one of the notable features of his work is how he switches with ease from Judaism to Christianity. He is not concerned with confessional barriers, they simply impede access to the deep well of spiritual lore from which he draws. Kabbalah also features in his imagery. He became increasingly interested in Zen. In 1990 he moved into a Zen monastery as a permanent resident, apparently becoming a Buddhist monk. He died in 2016.

Here then is a book that looks deep into the soul and imagination of one of the greatest singers and lyricists of our time. Here is the landscape of his soul. This is not a biography but a biographical narrative into the treatment of each song or theme, so that by the end the reader will in fact have a good understanding of Cohen's life story.
About the Author
---
Harry Freedman is Britain's leading author of popular works of Jewish culture and history. His publications include The Talmud: A Biography, Kabbalah: Secrecy, Scandal and the Soul, The Murderous History of Bible Translations and Leonard Cohen: The Mystical Roots of Genius. He has a PhD on an Aramaic translation of the Bible from London University. He lives in London with his wife Karen. You can follow his regular articles on harryfreedman.substack.com.
Praise For…
---
"Leonard Cohen: The Mystical Roots of Genius is the book so many of us have been waiting for. In it, Harry Freedman explores, in an entrancingly original and totally accessible way, the spiritual inspiration that is such an integral part of Leonard's work. Beautifully written, this is among the finest volumes on Cohen's life and lyrics. It's an exploration which would have intrigued and engaged Leonard himself." - John McKenna, writer and friend of Leonard Cohen

"Leonard Cohen taught us that even in the midst of darkness there is light, in the midst of hatred there is love, with our dying breath we can still sing Hallelujah." - The late Rabbi Lord Jonathan Sacks

"For those who know and want to know even more, this account of Leonard Cohen's preoccupations and what he made from his knowledge of the religious, is fascinating. A cultural story of a cultural giant." - Susie Orbach, psychotherapist and author

"Freedman's book highlights even further layers of meaning to the songs which speak so profoundly to so many of us, regardless of faith or spiritual background." - National Herald

"An intriguing and specific look at the traditions and stories that influenced a brilliant songwriter." - Library Journal

"There have been several books written about Cohen since his death but none of them, until now has gone deep into his soul. This is not a biography of the man but rather a biography of the the landscape of his soul...Freedman explores song by song how Cohen reworked myths and prayers, legends and allegories and leads us to an understanding of Cohen's life as we gain, insight into the man and his music." - Reviews by Amos Lassen

"Freedman...takes a fresh approach by focusing on Biblical and Torahic references in Cohen's lyrics." - Library Journal

"Harry Freedman's workmanlike examination of how Leonard Cohen's spiritual life shaped his songs is rich in detail." - Tim Adams, The Observer New Review

"…The Mystical Roots of Genius turned out to be a well-nigh perfect book to read over the High Holy Days… This is a charming and compelling walk through Leonard Cohen's spiritual life." - Jenni Frazer, Jewish Chronicle

"Described on the flyleaf as "Britain's leading author of popular works of Jewish culture", Freedman lives up to his billing by expressing sharp scholarship in crisp sentences... [Freedman's] handling of the words is masterly. He leaves you feeling wiser about Leonard Cohen, and Judaism, and life." - Tim de Lisle, Tablet

"Fluidly written…the breadth of Freedman's erudition is impressive. And ultimately he is an insightful guide to the many religious references in Cohen's back catalogue...Freedman has shone a light on the inspiration behind these songs. Much could have remained in darkness without him." - Rory Kiberd, Irish Independent

"Freedman is a much-published Judaic and Aramaic scholar whose book brims with insight… The content of this book is terrific." - Independent (app edition)

"This unique book is a gift to anyone who wishes to be accompanied more deeply into the biblical, Kabbalistic, and Buddhist themes underlying these texts." - Church Times

"The redeeming power of Freedman's book is that it allows his fans to be exposed one more time to Cohen's incredible personality and intelligence and, for that reason, the book is a success." - New York Journal of Books
Thank you for shopping local!