AstroNuts Mission Three: The Perfect Planet (Hardcover)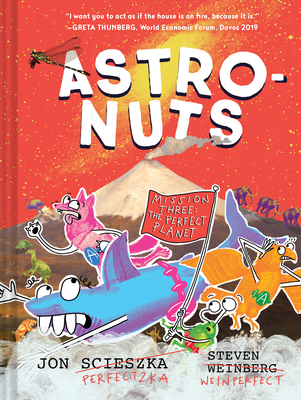 $14.99

Likely on our shelves now
Description
---
This series is The Hitchhiker's Guide to the Galaxy meets The Bad Guys in a funny, visually daring adventure series for reluctant readers, teachers, and librarians alike.

This hilarious, visually groundbreaking read is the conclusion to a major series by children's literature legend Jon Scieszka.

The book follows a final mission, where AlphaWolf, LaserShark, SmartHawk, and StinkBug must find a planet fit for human life after we've finally made Earth unlivable.

Time is up for our friends the AstroNuts. In fact, time is up for you, too. If they don't succeed on this mission, Earth is doomed! So when the team finds out they're being sent to a place called "the perfect planet," their mission sounds way too easy. Unfortunately, the second they land, they realize they'll be dealing with the most dangerous species of all time . . . humans. Huh? Where in the universe is this supposedly perfect place? And how will the Nuts manage to convince the humans to risk death . . . for the sake of their lives?!

Featuring full-color illustrations throughout, Planet Earth as the narrator, an out-of-this-world gatefold, and how-to-draw pages in the back, eager and reluctant readers alike will be over the moon about this new mission. Full of laugh-out-loud humor with a thoughtful commentary on the reality of climate change at the core of the story, this creatively illustrated, full-color, action-packed space saga is a can't-put-it-down page-turner for readers of all levels and fans ready to blast past Dogman.

EXCITING BIG-NAME TALENT: Jon Scieszka is one of the biggest names in children's books. The first National Ambassador of Young People's literature, he and Steven Weinberg toured extensively for this series. They'll continue making their way around the world for Book 3! You might have met them at ALA, the National Book Festival, the Rabbit HOle, the Brooklyn Book Festival, the Illinois Reading Council, the Tween Reads Book Festival, the Texas Book Festival, the NYC Department of Education Fall Conference, the 826 Story Soirée in New York, or NCTE in Baltimore!

POPULAR SERIES: MISSIONS 1 and 2 received starred reviews, amazing blurbs, and tons of industry love. MISSION 1 was an Amazon Best Book of the Year! Dav Pilkey, Jennifer Holm, LeUyen Pham, and Gene Luen Yang are all big fans—check out those blurbs!

FUN AND SCIENTIFIC: The book incorporates STEM elements in a way that readers will find fun and entertaining, while teachers and librarians will find it clever and original.

PERFECT FOR BUDDING GRETA THUNBERGS: This book successfully talks about the effect of climate change and impels its readers to take action, without feeling didactic or message-y at all.

TIES TO REAL-WORLD ISSUES: Readers will recognize quite a few dilemmas the AstroNuts face from current events on Earth. Making connections between fiction and non-fiction is a big developmental milestone for young readers, and this book works as an effective allegory for our most dire contemporary concerns.

RELUCTANT READER-FRIENDLY: The book is a great vehicle for reluctant readers, featuring cool topics and bright art, and relying on visual literacy and very few words.

A CONSTELLATION OF TOPICS: Space, STEM, and talking animals: There's something here for every reader!

LOLs FOR DAYS: The book is funny and will delight kids who love books like Wimpy Kid, The 39-Story Treehouse, Dog Man, and Captain Underpants. While it contains serious ideas, it's a quick, easy, and fun visual read.

GROUNDBREAKING DESIGN: The hundreds of pages of full-color art are dynamic and engaging—and it doesn't look like anything else out there. Steven Weinberg bases his art on public domain pieces from the Smithsonian museum! Teachers turn to the books for this element of the art and use it in classrooms to talk about collage, idea sourcing, history, and art medium.

PERFECT ART PROJECT: On the website, kids can download pages of the "original" art and use it to make their own hybrid animal collages.

Perfect for:

• Perfect for fans of Dog Man, Big Nate, Wimpy Kid, and Captain Underpants
• Families who care about the environment
• Grandparents
• Teachers and educators who are looking to introduce STEM and environmental topics to children
• Librarians
About the Author
---
Jon Scieszka is best known for his bestselling picture books, including The True Story of the Three Little Pigs! and The Stinky Cheese Man. He is also the founder of guysread.com and a champion force behind guyslisten.com, and was the first National Ambassador of Young People's Literature. He lives in the Catskills in New York.

Steven Weinberg writes and illustrates kids' books about dinosaurs, roller coasters, beards, and chainsaws. He also lives in the Catskills in New York.
Praise For…
---
"Scieszka's third installment doesn't miss a beat. . . Weinberg's illustrations are dazzling. . . This series has been dependably edifying and entertaining, and this latest volume works fine as a stand-alone, although the recap should entice new readers to visit previous installments. Perfectly fun."—Kirkus Reviews
Thank you for shopping local!