Our Bodies, Ourselves (Paperback)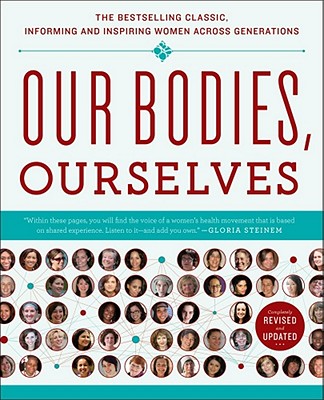 List Price: $32.50
Our Price: $30.00
(Save: $2.50 8%)
Should be on our shelves now -- but wait for confirmation from us before coming to pick up. We'll respond to your order shortly.
Description
---
THE BESTSELLING WOMEN'S HEALTH CLASSIC—INFORMING AND INSPIRING WOMEN ACROSS GENERATIONS

Hailed by The New York Times as a "feminist classic," this comprehensive guide to all aspects of women's sexuality and reproductive health—including menopause, birth control, childbirth, sexual health, sexual orientation, gender identity, mental health, and overall wellbeing—changed the women's health movement around the world and remains as important and relevant as ever.

Providing detailed and empowering information on women's reproductive health and sexuality, this latest edition of Our Bodies, Ourselves shows how to find and access health information and offers additional resources and stories to educate women about health care injustices and inspires them to work collectively to address them. Including the latest vital information on:

-Changes in the health care system—especially how health care reform affects women and how to get the care you need.

-Safer sex—how to engage in pleasurable, satisfying sexual experiences while protecting your health and the health of your partner.

-Environmental health risks—including minimizing exposure to everyday pollutants that endanger reproductive health.

-Body image—resisting negative media stereotypes and embracing healthier approaches to looking and feeling good.

-Local and global activism—using social media and organizing tactics to build community and advocate for policies that improve women's lives.

-As well as crucial information about gender identity, sexual orientation, birth control, abortion, pregnancy and birth, perimenopause, and sexuality and sexual health as we age.

Together with its companion website, OurBodiesOurselves.org, Our Bodies, Ourselves is a one-stop resource that belongs on the bookshelves of women of all ages.
About the Author
---
The Boston Women's Health Book Collective (now known as Our Bodies Ourselves) is a non-profit organization founded in 1969 whose advisors have included Teresa Heinz Kerry, Susan Love, and Gloria Steinem. Their mission is to empower women (and others) by providing information about health, sexuality, and reproduction. For five decades Our Bodies, Ourselves was the organization's core vehicle for driving their mission. While OBOS is still recognized for its voice in policy, advocacy, and educational efforts related to women's health, and women's groups across the globe continue to produce translation/adaptations of this iconic text. Judy Norsigian is the current board chair of Our Bodies Ourselves.
Praise For…
---
This flawlessly updated edition does justice to the legacy of Our Bodies, Ourselves, which has been synonymous with women's empowerment for the past 40 years. Incredibly detailed, empowering, and enriched by the extremely diverse opinions and positions of its collaborators, this should be on the bookshelves of women young and old worldwide!!

-- Nancy Redd, author of Body Drama and Diet Drama


The new edition of Our Bodies, Ourselves offers a relatable voice to help make the very confusing reality of health and sexuality as a girl easier to navigate. In a world that doesn't always offer girls such honesty, the new edition of OBOS makes me optimistic about the awareness and attitude of this generation of women and girls. My brain was fist pumping the whole way through.

-- Tavi Gevinson, thestylerookie.com and editor-in-chief of Rookie Magazine

This revamped edition of Our Bodies, Ourselves shows just how far we've come in the women's health movement. The level of inclusiveness of my community--those of us who are queer, trans or gender non-conforming--is remarkable. If this had been the edition that my mom gave me as a pre-teen, my life and coming-of-age would have been so different and much less confusing. It also artfully lays out the reality of women's health as a political issue--one that goes way beyond simply understanding how our bodies work. The 40th anniversary edition proves that education is a radical act and that sharing our struggles, triumphs and stories can ultimately change the world.

- -Miriam Zoila Pérez, Editor, Feministing.com, Founder, Radicaldoula.com, and recipient of the Barbara Seaman Award for Activism in Women's Health

OBOS is the most important resource on women's health ever written by and for women. It teaches every woman how to take charge of her own body and helps us all become well-informed health care consumers.

-- Loretta Ross, founder and the National Coordinator of the SisterSong Women of Color Reproductive Health Collective

This is truly the bible on women's health! It has been completely revised and updated for a new generation of women who will need its guidance more than ever as they attempt to take control of their health.

-- Susan Love, M.D., author of Dr. Susan Love's Breast Book and Dr. Susan Love's Menopause and Hormone Book and co-author of Live a Little!

If only every little girl were born with a copy of Our Bodies, Ourselves in her hands, we would raise a society filled with healthy, confident women. And if women could have only one book on their shelves, let it be this classic tome filled to the brim with practical and empowering information.

-- Toni Weschler, M.P.H., author of Taking Charge of Your Fertility
Coverage from NPR