A Man of the World: My Life at National Geographic (Hardcover)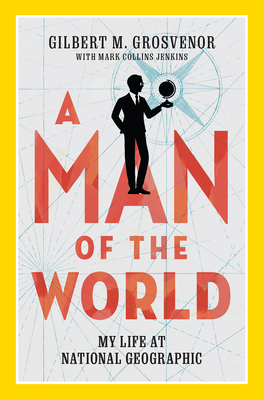 $28.00

Not in the store. We can order it and should have it in store in 3-5 business days.
Description
---
The captivating inside story of the man who helmed National Geographic from the 1960s to the 1980s is a front-row seat to iconic feats of exploration, from Jane Goodall's first assignment to the discovery of Titanic, offering a rare portrait of one of the most iconic media empires in history.

In the middle of the 20th century, there was a man whose name--and magazine--was recognized from Tanzania to Siberia. His vision for a world full of wonder created one of the most unique and beloved institutions on the planet. His name is Gilbert M. Grosvenor.

For more than 100 years, Grosvenor's family led the National Geographic Society, building it from a Victorian club in 1888 to a powerful media empire recognized the world over for the iconic yellow rectangle that has outlasted nearly all rival brands. In this swashbuckling memoir, Grosvenor tells the story of "growing up Geographic," from editorial assignments that took him from the Arctic Circle and into the jungle with Jane Goodall to the helm of the flagship magazine as its editor-in-chief, growing its circulation to more than 10 million subscribers, and launching a book imprint, television programming, and a geography education initiative. Grosvenor's life spans the sweep of Henry Luce's "American Century" and is set against some of the most breathtaking locations this planet has to offer, including the temples of Angkor Wat and the banks of the Nile, and events such as the crowning of an African prince and the funeral of Winston Churchill. And it is lived against the challenging backdrop of simultaneously serving an active membership and documenting a changing planet.

This extraordinary memoir from one of the most successful media executives of the 20th century--filled with pirates, royalty, treasures, frostbite, shipwrecks, impenetrable jungles, hidden tombs, and ancient temples--is the story of American journalism writ large. And it's a galvanizing call to action that will inspire readers to explore and protect our world.
About the Author
---
GILBERT MELVILLE GROSVENOR is the former president and chairman of the National Geographic Society, after having served as the editor of National Geographic magazine from 1970 to 1980. The great-grandson of Alexander Graham Bell and the third Grosvenor to serve as editor-in-chief of the magazine, Gilbert Grosvenor has received 14 honorary doctorates and the Presidential Medal of Freedom in 2005 for his leadership in geography education.
Praise For…
---
Grosvenor grew up Geographic. This isn't an exaggeration. His family home was regularly visited by, among other adventurers, Arctic explorer Robert Peary. Grosvenor went on to serve as Nat Geo's staff photographer, editor in chief and president, making himself a crucial figure for the publication as he observed feats such as the successful search for the Titanic and while making time to hang with houseguests such as legendary chimp-whisperer Jane Goodall. Sept. 13.—Men's Journal

Grosvenor, former president of the National Geographic Society, presents an enthralling look at his consequential time "searching out and celebrating the planet." The son of Melville Bell Grosvenor, editor-in-chief of National Geographic Magazine, Grosvenor had his career laid out for him, though it didn't make itself evident immediately. While an undergraduate at Yale in the early 1950s, where he majored in psychology, Gilbert volunteered to help clean up the destruction left by devastating flooding in the Netherlands. After documenting the tragedy and the region's recovery in an article published in National Geographic, Grosvenor writes, "I was hooked, a convert to journalism." By 1954, Grosvenor was working for the magazine's illustrations division. As he details his ascent through the magazine—from becoming editor in 1970 to later heading the society as its president in 1980—Gilbert passionately recounts his effort to spearhead the society's Geography Education Outreach program, an endeavor that put millions of dollars behind his belief that education about the world's landscapes was key to tackling climate change. Just as captivating as Grosvenor's accomplishments are humorous moments that cast the phenom in an endearing light, including when he was nearly trampled by a horse-drawn carriage after falling off a truck in Pakistan. The magazine's many devotees will be riveted.—Publishers Weekly

With the help of Mark Collins Jenkins, former chief historian of the National Geographic Society's archives, Grosvenor, now 91, relates his long association with that society's celebrated magazine. National Geographic'sfirst full-time editor was Grosvenor's grandfather (1899–1954), followed by Grosvenor's father (1957–67), followed by Grosvenor himself (1970–80), who would leave that position to become president of the society (1980–96). Steeped in the spirit of exploration, dating back to the author's adventures as a boy on Cape Breton Island and along the inlets of Chesapeake Bay, Grosvenor's anecdotal account belies its importance as a history of the society and its magazine, as it details landmarks in the magazine's history, from its critical financial support of North Pole explorer Robert Peary, the Leakeys, Jacques-Yves Cousteau, and Jane Goodall, among others, to its shift to environmental issues, its support of geography education, and its expansion into other media. Great stories abound, such as Richard Leakey's utter disbelief as he stares at the pet-food aisle of an American supermarket. "How else do you feed your dog," Grosvenor asks him. "I just open the back door," Leakey replies. "Ben finds his own food. In the bush."—Alan Moores, Booklist
Thank you for shopping local!