Mother of Invention: How Good Ideas Get Ignored in an Economy Built for Men (Paperback)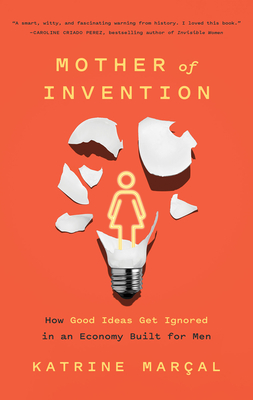 $17.00

Should be on our shelves now -- but wait for confirmation from us before coming to pick up. We'll respond to your order shortly.
Description
---
An illuminating and maddening examination of how gender bias has skewed innovation, technology, and history—now in paperback

It all starts with a rolling suitcase. Though the wheel was invented some 5,000 years ago, and the suitcase in the 19th century, it wasn't until the 1970s that someone successfully married the two. What was the holdup? For writer and journalist Katrine Marçal, the answer is both shocking and simple: because "real men" carried their bags, no matter how heavy.

Mother of Invention is a fascinating and eye-opening examination of business, technology, and innovation through a feminist lens. Because it wasn't just the suitcase. Drawing on examples from electric cars to tech billionaires, Marçal shows how gender bias stifles the economy and holds us back, delaying innovations, sometimes by hundreds of years, and distorting our understanding of our history. While we talk about the Iron Age and the Bronze Age, we might as well talk about the Ceramic Age or the Flax Age, since these technologies were just as important. But inventions associated with women are not considered to be technology in the same way as those associated with men. Mother of Invention is a sweeping tour of the global economy with a powerful message: If we upend our biases, we can unleash our full potential.
About the Author
---
Katrine Marçal is a Swedish writer, journalist, and correspondent for the Swedish daily newspaper Dagens Nyheter. Her first book, Who Cooked Adam Smith's Dinner?, was shortlisted for the August Prize and won the Lagercrantzen Award. She lives in London.
Praise For…
---
"[Marçal's] at-once anecdotal and theoretical book seeks to understand what's lost when women's social contributions are limited, as well as ways to move toward a new model. The author's writing shines when she addresses perceptions of women throughout history; she particularly carefully unpacks how Black and brown women have historically been restricted and misrepresented, and the misconceptions that endure... A must-read."
—
Library Journal, *starred* review
"A smart, witty, and fascinating warning from history. I loved this book."—
Caroline Criado Perez
,
bestselling author of Invisible Women
"[A] quirky treatise...Told in a conversational tone, this feminist directive...fascinates with its wealth of historical tidbits. Fans of Caroline Criado-Perez's
Invisible Women
, take note."
—
Publishers Weekly
"The joy of the book is how it manages to weave in stories of women influencing innovation in masculine spaces...Innovation may have been stifled by gender bias in the past, but Mother of Invention shows that we can choose a different future."
—
Science Magazine
"[A] breezy read... Each chapter uses an animating story...to offer free-flowing ruminations on patriarchy, economics, and invention."
—
Booklist
"From wheeled suitcases to witch trials, Katrine Marçal makes you look again at history in this funny, clever, and provocative book."
—
Helen Lewis
,
author of Difficult Women: A History of Feminism in 11 Fights
"This is an absolute must-read. Equal parts informative and infuriating."
—
, author of Sex: Lessons from History
,
Dr. Fern Riddell
"Another eye-opening entry for the 'Where Are All the Women?' playbook. A wide-ranging swoop through the history of technology and how game-changing innovations got delayed, dismissed, or forgotten if they were suggested by women or just because they were seen as feminine. Set in an apparently implacable framework of an absolute difference between female and male ideas and life abilities, the narrative can, at times, be infuriating but always thought-provoking and intriguing. It is a clearly needed wake-up call to future innovators not to view the world through a narrowly gendered lens but to pay attention to the skills and lived experiences of all."
—
Professor Gina Rippon
,
bestselling author of The Gendered Brain
"Sometimes we are lucky to experience a leap in new thinking. We look in amazement at the world around us and ask: Why didn't we see this before? This what Katrine Marçal offers us in Mother of Invention. She brilliantly proves how male-driven technology over the ages has limited full human development by neglecting a liberating female narrative and perspective."
—
Jan Eliasson
,
former deputy secretary-general of the UN
"This second book by the author of Who Cooked Adam Smith's Dinner? is both bracing and highly entertaining. Marcal's contention is that while women have been coming up with ingenious inventions since the beginning of time, they are routinely sidelined in a world geared to men."
—
Bookseller
"Start 'Mother of Invention,' and you'll be astounded. It's fun and super-informative with tales of innovations that were largely ignored or irritatingly co-opted by men, and back-stories of how the presence of the feminine, whether real or imagined, changed products and processes...wry and very, very enjoyable..."—
Idaho Press