The Creeps: Book 3: Curse of the Attack-o-Lanterns (Paperback)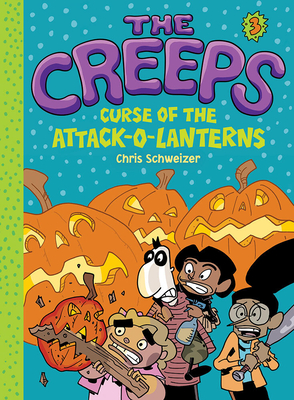 $9.95

Backordered at our distributor but we can check availability from the publisher.
Description
---
Goosebumps meets NERDS meets Scooby Doo in this graphic novel mystery series about the power of misfits. The Creeps are in trouble, again. When rule breaking during one of their investigations lands the detectives in "service detention," the four friends find themselves lugging pumpkins off a foreclosed pumpkin patch. To thank them for their service, Sheriff Obie allows each Creep to take home a pumpkin to carve into a jack-o-lantern. Bad idea. Once carved, the jack-o-lanterns come to life—and attack everyone within reach! It turns out the pumpkins came from a cursed patch, and to stop the Attack-o-Lanterns from destroying their town, the Creeps will have to team up with the patch's unpleasant owner, Old Lady Bitterwood, who happens to be a witch.

About the Author
---
Chris Schweizer is the author/illustrator of the Crogan Adventures graphic novel series, which was nominated for two Eisner Awards and made the YALSA Great Graphic Novels for Teens list. He received his MFA from Savannah College of Art and Design. Schweizer lives in Madisonville, Kentucky, with his wife and daughter. www.chrisschweizer.com.