Dead Zone: Where the Wild Things Were (Paperback)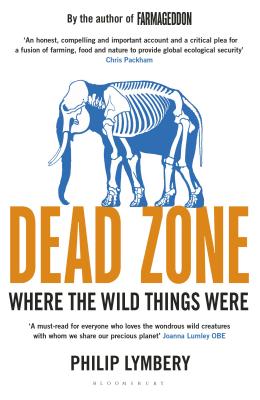 Description
---
A tour of some of the world's most iconic and endangered species, and what we can do to save them.

Most of us are aware that many animals are threatened by extinction--the plight of creatures such as polar bears, tigers, and whales has been well publicized. While this is typically attributed to climate change and habitat destruction, few people realize that there is a direct link to consumer demand for cheap meat.

Some may see intensive farming as a necessary evil. After all, we need to produce more food for a growing global population and are led to believe that squeezing animals into factory farms and growing crops in vast, chemical-soaked prairies is efficient and leaves land free for wildlife--but this is far from the truth. With the limits of the planet's resources now seemingly within touching distance, awareness is growing about how the wellbeing of society depends on a thriving natural world. Through the lens of a dozen iconic and endangered species, Dead Zone examines the role of industrial farming in their plight and meets the people doing something about it.

By the author of the internationally successful Farmageddon, Dead Zone takes the reader on a global safari involving some of the world's most iconic and endangered species. The focus shifts from the plight of farm animals to the impact of industrial farming on specific endangered species, as the book lays bare the myths that prop up factory farming and shows what we can do to save the planet with healthy food.
About the Author
---
Philip Lymbery is the CEO of leading international farm animal welfare organization Compassion in World Farming (CIWF) and a visiting professor at the University of Winchester. He is the author of Farmageddon: The True Cost of Cheap Meat.
Praise For…
---
"This sobering but well-written critique will interest Michael Pollan fans and anyone curious about the environmental impact of modern agribusiness." - Library Journal

"Highly informed, utterly compelling . . . Lymbery's narrative threads are subtle and replete with powerful evidence . . . He does a superb job of equipping us with the hard facts. No author can do more." - New Statesman

"This eye-opening book, urging a massive rethink of how we raise livestock and how we feed the world, deserves global recognition" - Hugh Fearnley-Whittingstall on FARMAGEDDON

"A devastating indictment of cheap meat and factory farming. Don't turn away: it demands reading and deserves the widest possible audience" - Joanna Lumley on FARMAGEDDON

"This incredibly important book should be read by anyone who cares about people, the planet, and particularly, animals" - Jilly Cooper on FARMAGEDDON

"Lymbery brings to this essential subject the perspective of a seasoned campaigner – he is informed enough to be appalled, and moderate enough to persuade us to take responsibility for the system that feeds us" - Guardian on FARMAGEDDON