Midnighter and Apollo (Paperback)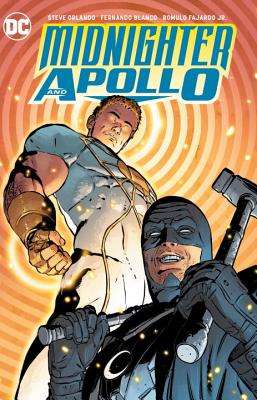 $16.99
Out of stock at the moment; would not arrive before the holidays.
Description
---
Continuing the story from his GLAAD Award-nominated MIDNIGHTER series, acclaimed writer Steve Orlando (SUPERGIRL) teams with artist Fernando Blanco (BATMAN AND ROBIN ETERNAL) for Midnighter and Apollo's fiercest battle yet in MIDNIGHTER AND APOLLO.
 
Partners. Teammates. Lovers. Even though they'd broken up, it's impossible to keep the heroes known as Midnighter and Apollo apart.
 
But that's exactly what Henry Bendix is counting on.
 
The man who created Midnighter wants to destroy him, and he knows that the perfect warrior has only one weak point—the man he loves. So if he can't send Midnighter to Hell himself, he'll get Midnighter to walk right into the underworld…to rescue Apollo, whose soul has been stolen by the Lord of Hell, Neron.
 
Midnighter is coming to Hell…and Heaven help any demon who stands between him and his man.
 
Collects MIDNIGHTER AND APOLLO issues #1-6 of the miniseries.
About the Author
---
Steve Orlando is a comic book writer who has worked for both DC Comics and Image Comics. He has created Undertow, an underwater epic for Image and has written MIDNIGHTER and is currently writing REBIRTH: SUPERGIRL and MIDNIGHTER AND APOLLO for DC Comics.