Mergers & Acquisitions for Dummies (Paperback)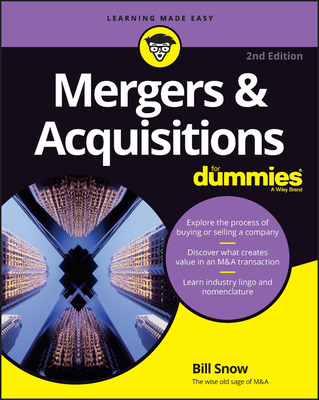 $34.99

Not in the store. We can order it and should have it in store in 3-5 business days.
Description
---
Explore M&A, in simple terms
Mergers & Acquisitions For Dummies provides useful techniques and real-world advice for anyone involved with - or thinking of becoming involved with - transactional work. Whether you are a transactions pro, a service provider tangentially involved in transactions, or a student thinking of becoming an investment banker, this book will provide the insights and knowledge that will help you become successful. Business owners and executives will also find this book helpful, not only when they want to buy or sell a company, but if they want to learn more about what improves a company's value. The evaluation process used by M&A professionals to transact a business sale is often quite different from the processes used by owners and executives to manage those businesses.

In plain English terms that anyone can understand, this book details the step-by-step M&A process, describes different types of transactions, demonstrates various ways to structure a deal, defines methods to identify and contact targets, provides insights on how to finance transactions, reveals what helps and hurts a company's valuation, offers negotiating tips, explains how to perform due diligence, analyzes the purchase agreement, and discloses methods to help ensure the combined companies are successfully integrated. If you're getting involved with a merger or an acquisition, this book will help you gain a thorough understanding of what the heck is going on. Updates to this second edition include quality of earnings reports, representation and warranty insurance, how to hire investment bankers, changes to the offering documents, the rise of family offices, and the ubiquity of adjusted EBITDA (earnings before interest, tax, depreciation, and amortization) as a basis for valuation.
Understand the merger and acquisition process in a simple, easy-to-understand manner
Learn the nomenclature and terminology needed to talk and act like a player
Determine how to hire the people who will help you conduct M&A deals
Discover tips on how to successfully negotiate transactions
Mergers & Acquisitions For Dummies is a great choice for business owners and executives, students, service providers, and anyone interested in M&A transactions.
About the Author
---
Bill Snow is a noted authority on mergers and acquisitions who has represented buyers and sellers in a multitude of industries. He speaks regularly at events, panels, professional groups, executive forums, and college classes, and is registered with FINRA as an investment banking representative.