The Block (The Second Book of The Loop Trilogy) (Hardcover)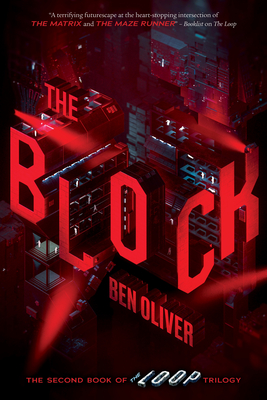 $18.99

Not in the store. We can order it and should have it in store in 3-5 business days.
Other Books in Series
This is book number 2 in the The Loop series.
Description
---
In the second book of The Loop trilogy, Luka is trapped in a fate worse than death. But now that he knows the truth about what he and his fellow inmates are being used for, it's more important than ever that he not only escapes, but that he builds an army.
Luka is a prisoner once again. But this time it's a fate worse than death. In the Block, he must toggle between enduring an Energy Harvest for twelve hours of the day and surviving complete immobilization. The only semblance of relief is the Sane Zone, created to keep prisoners from going completely mad. In this virtual reality, the prisoners live out their fantasies of life outside. But for Luka, it's different.
Happy is determined to find out the location of his friends, who disappeared after the Battle of Midway Park. But can Luka battle the descent into madness long enought to stop Happy's manipulation tactics and keep his friends' location safe?
Another prison break is the only chance to protect the Missing. And as reality becomes increasingly scrambled on the outside, it'll take an army to stop Galen from carrying out his plans.
About the Author
---
Benjamin Oliver grew up in Scotland and began writing long before he could spell. He attended the University of Stirling where he studied English but spent most of his time trying to write a novel. Benjamin's first short story was published when he was eighteen, and since then he's been published in over a dozen literary magazines and anthologies. Fueled by astounding amounts of coffee, Benjamin completed The Loop -- his first full-length YA manuscript -- in Edinburgh, where he currently lives and teaches English at secondary school.
Praise For…
---
* "While some second novels dip or stall, this volume aptly does its job, building background knowledge for the series, creating more tension, and setting up a riveting cliffhanger for the series conclusion." -- Kirkus (Starred Review)
Praise for The Loop:
"Oliver's debut presents a terrifying futurescape at the heart-stopping intersection of The Matrix and The Maze Runner, kicking off a trilogy sure to prove dystopian sci-fi still has more to offer." -- Booklist
* "A script-ready story with blockbuster potential." -- Kirkus (Starred Review)
"With plenty of appeal for fans of a good dystopian tale, this book won't spend much time on the shelf" -- School Library Journal (Starred Review)
"A gripping story, where the only chance of survival is escape." -- Louise Sutton, Emmy Award-winning producer of Black Mirror
"A terrifying and sinister look into the future that will leave your jaw on the floor. This is going to make waves." -- Kass Morgan, New York Times bestselling author of The 100
"Like Divergent and The Maze Runner, this title pulls the reader into a futuristic world where nurturing friendships is important but the need for survival puts them at odds." -- School Library Journal
Praise for The Loop:
"Oliver's debut presents a terrifying futurescape at the heart-stopping intersection of
The Matrix
and
The Maze Runner
, kicking off a trilogy sure to prove dystopian sci-fi still has more to offer." --
Booklist
"A script-ready story with blockbuster potential." --
Kirkus
(Starred Review)"With plenty of appeal for fans of a good dystopian tale, this book won't spend much time on the shelf" -- School Library Journal (Starred Review)"A gripping story, where the only chance of survival is escape." -- Louise Sutton, Emmy Award-winning producer of
Black Mirror
"A terrifying and sinister look into the future that will leave your jaw on the floor. This is going to make waves." -- Kass Morgan,
New York Times
bestselling author of
The 100
"Like
Divergent
and
The Maze Runner
, this title pulls the reader into a futuristic world where nurturing friendships is important but the need for survival puts them at odds." --
School Library Journal