Possibility Unleashed: Pathbreaking Lessons for Making Change Happen in Your Organization and Beyond (Hardcover)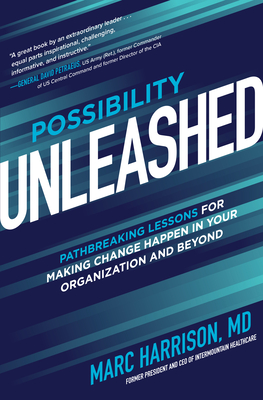 $32.00

Backordered at our distributor but we can check availability from the publisher.
Description
---
From a visionary leader comes a game-changing guide to help you face your fears, transcend discord and polarization, and drive positive systemic and societal change
When Marc Harrison became CEO of Intermountain Healthcare, one of the nation's largest health systems, the organization was financially sound and had a sterling reputation for delivering excellent care. But Harrison wasn't content to uphold that reputation; he knew it could be even better. As an IRONMAN triathlete, he had a drive to push boundaries; as a two-time cancer survivor, he had a deeper empathy for patients and a greater sense of urgency. Harrison led an ambitious transformation that has unleashed Intermountain's workforce not only to improve the organization but to look beyond it and tackle a range of problems that have plagued both the industry and our broader society. Bucking the prevailing culture of conflict and polarization, leaders at all levels are empowered to convene diverse stakeholders in unorthodox ways to solve problems that affect everyone.
In Possibility Unleashed, you'll learn what happens when you:
Walk in others' shoes
Embrace an outsider's perspective
Look in the mirror
Fix what isn't broken . . . yet
Unlock the genius at the bedside (or at the front line)
Ask "What if?"
Make "frenemies"
Go upstream
Stand up for what's right
Color outside the (red and blue) lines
You'll find real-life examples of how this works in action--from a liberal, Harvard-trained program manager partnering with a leading gun rights advocate to address the issue of firearm-assisted suicides to a healthcare organization fighting high prices and drug shortages by working with its competitors to establish a not-for-profit generic drug company that benefits all. And while other health systems stand by as their communities struggle with poverty, crime, and other seemingly nonmedical issues, Intermountain is investing millions to address them, recognizing that they in turn profoundly affect people's health. It's a radical approach to leadership that shuns the status quo to create lasting transformative change. In
Possibility Unleashed
, you'll discover the blueprint to making a far greater impact on society than you'd imagined while also building strong, financially healthy organizations where people love to work.