Killing the Witches: The Horror of Salem, Massachusetts (Bill O'Reilly's Killing Series) (CD-Audio)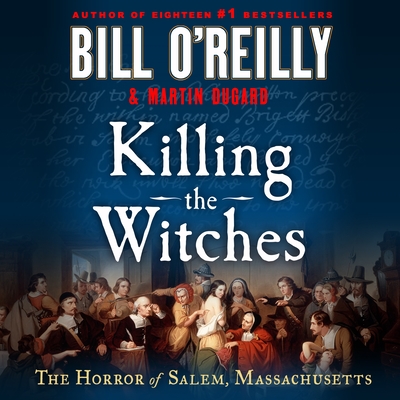 $39.99

Not in the store. We can order it and should have it in store in 3-5 business days.
Description
---
With over 19 million copies in print and a remarkable record of #1 New York Times, Wall Street Journal, USA Today, and Publishers Weekly bestsellers, Bill O'Reilly's Killing series is the most popular series of narrative histories in the world.

Killing the Witches revisits one of the most frightening and inexplicable episodes in American history: the events of 1692 and 1693 in Salem Village, Massachusetts. What began as a mysterious affliction of two young girls who suffered violent fits and exhibited strange behavior soon spread to other young women. Rumors of demonic possession and witchcraft consumed Salem. Soon three women were arrested under suspicion of being witches--but as the hysteria spread, more than 200 people were accused. Thirty were found guilty, twenty were executed, and others died in jail or their lives were ruined.

What really happened in Salem? Killing the Witches tells the horrifying story of a colonial town's madness, offering the historical context of similar episodes of community mania during that time, and exploring the evidence that emerged in the Salem trials, in contemporary accounts, and in subsequent investigations. The result is a compulsively readable book about good, evil, and how fear can overwhelm fact and reason.
About the Author
---
BILL O'REILLY is a trailblazing TV journalist who has experienced unprecedented success on cable news and in writing eighteen national number-one bestselling nonfiction books. There are more than eighteen million books in the Killing series in print. He lives on Long Island.

MARTIN DUGARD is the New York Times bestselling author of several books of history, among them the Killing series, Into Africa, and Taking Paris. He and his wife live in Southern California.

Robert Petkoff has won multiple AudioFile Earphones awards for his acclaimed narrations. He was named Best Voice of Fiction & Classics for his reading of The Evolution of Bruno Littlemore by Benjamin Hale. His other narration credits include Oath of Office by Michael Palmer, Gangster Squad by Paul Lieberman, and books by David Foster Wallace.Petkoff has appeared on Broadway, Off-Broadway, and in theaters across America and Europe.  He has worked in television and film. His theater credits include Lord Evelyn Oakleigh in the Broadway production of Anything Goes, Perchik as part of the Tony-nomianted cast of Fiddler on the Roof, and Hubert Humphrey in the Tony award-winning play All the Way. He has also had numerous roles in television on shows such as Law and Order and Married with Children.