Olga Dies Dreaming: A Novel (CD-Audio)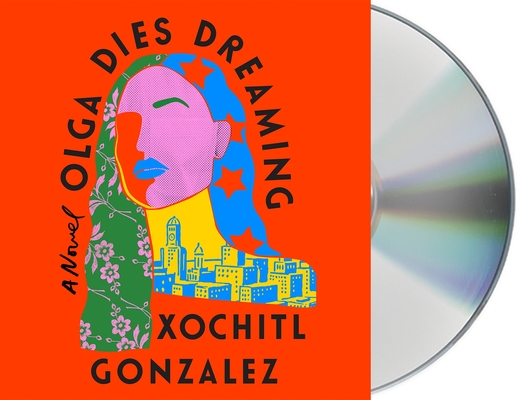 $39.99

Backordered at our distributor but we can check availability from the publisher.
January 2022 Indie Next List
---
"Get ready to root for Olga! I absolutely loved this book. It beautifully captures the Puerto Rican experience with humor and bravery. It felt like home and when a book feels like home, I can't help but invite everyone over."
— Rosa Hernandez, Third Place Books, Lake Forest Park, WA
Description
---
"All three narrators are Puerto Rican–born and deliver the Spanish passages with musical grace, thereby enhancing an already fine novel." —The Washington Post

A blazing new talent debuts with the story of a status-driven wedding planner grappling with her absent mother, her glittering career amongst New York's elite and her Puerto Rican roots in the wake of Hurricane Maria.

It's 2017, and Olga and her brother, Pedro "Prieto" Acevedo are bold faced names in their hometown of New York. Prieto is a popular Congressman representing their gentrifying, Latinx neighborhood in Brooklyn while Olga is the tony wedding planner for Manhattan's powerbrokers.

Despite their alluring public lives, behind closed doors things are far less rosy. Sure, Olga can orchestrate the love stories of the 1%, but she can't seem to find her own...until she meets Matteo, who forces her to confront the effects of long held family secrets…

Twenty-seven years ago, their mother Blanca, a Young Lord-turned-radical, abandoned her children to advance a militant political cause, leaving them to be raised by their grandmother. Now, with the winds of hurricane season, Blanca has come barreling back into their lives.

Set against the backdrop of New York City in the months surrounding the most devastating hurricane in Puerto Rico's history, Xochitl Gonzalez's Olga Dies Dreaming is a story that examines political corruption, familial strife and the very notion of the American Dream—all while asking what it really means to weather a storm.

A Macmillan Audio production from Flatiron Books
About the Author
---
Xochitl Gonzalez is the New York Times bestselling author of Olga Dies Dreaming. Named a Most Anticipated Book of 2022 by Time, Kirkus, Boston Globe, Vogue, Bustle, and more, Olga Dies Dreaming was a Barnes & Noble Discover Pick, an Indies Introduce Pick, an Indie Next Pick, and Amazon's Featured Debut of the month. Xochitl received her M.F.A. from the Iowa Writers' Workshop, where she was an Iowa Arts Fellow and the recipient of the Michener-Copernicus Fellowship for Fiction. She was the winner of the 2019 Disquiet Literary Prize and her work has been published on Bustle, Vogue, and The Cut. She is a contributor to The Atlantic, where her weekly newsletter "Brooklyn, Everywhere" explores gentrification of people and places. A native Brooklynite and proud public school graduate, she lives in her hometown of Brooklyn with her dog, Hectah Lavoe.
Praise For…
---
Indie Next Selection for January 2022
Book of the Month Club Selection

"Atmospheric, intelligent, and well informed: an impressive debut." — Kirkus, starred review

"Olga Dies Dreaming is a beautiful force — completely unique in its intricacies yet universal in the characters' desires to be loved and understood." — Associated Press

"A fantastically engaging story...Rarely does a novel, particularly a debut novel, contend so powerfully and so delightfully with such a vast web of personal, cultural, political and even international imperatives." —The Washington Post

"[An] edifying debut... Gonzalez elevates this family drama with a great deal of insight on the characters' diaspora and politics." — Publishers Weekly

"A wonderful and thought-provoking story..." — BookRiot

"Olga Dies Dreaming intricately presents its flawed characters working through the meaning of cultural identity, family secrets, grief, and self-preservation. Their stories capture the ways in which we sometimes define ourselves by how others see us — to often painful ends." — Book of the Month

"Xochitl Gonzalez delivers a healthy dose of tough love with her buzzy debut Olga Dies Dreaming." — TIME

"In her ambitious debut novel, Gonzalez explores such weighty topics as coercion, rape, gentrification, and the colonial exploitation...Shining throughout, however, is the redeeming quality of love in all its iterations: romantic, fraternal, paternal, patriotic, and ultimately, love of self." — Booklist

"Vibrant and raw...Olga Dies Dreaming delivers a roller coaster's worth of beautiful highs and lows. All told, it's an experience worth savoring." — BookPage

"Hilarious… A sprawling dramedy of love, politics, blackmail and real estate featuring a Puerto Rican family in Brooklyn." — People

"The extraordinary accomplishment of Olga Dies Dreaming is in how a familiar-enough tale—a woman seeking love, happiness, and fulfillment in the big city—slowly reveals itself to be something else altogether. It's a book about a New York that isn't always celebrated, the one that belongs to immigrant communities; about money, class, and political power; about one vividly-imagined family and the very idea of the American Dream." — Rumaan Alam, author of Leave the World Behind

"In this sparkling debut, Gonzalez digs deep into the damaged heart of a family, ably dissecting the knottiness of conditional love, identity, loyalty, secrets and the very definition of home. That she manages to cover so much ground with wisdom, tenderness and abundant humor makes this book a complete joy, and I will think about its richly drawn, deeply human characters for a very long time." — Cynthia D'Aprix Sweeney, author of The Nest and Good Company

"Olga Dies Dreaming is the story of an imperfect family shattered by secrets, grief, and abandonment, and of people who rise up, refusing to be broken. Smart, witty, and driven, Gonzalez's Olga hustles, stumbles, falls, and eventually finds her way. An unflinching examination of capitalism, corruption, gentrification, colonialism, and their effects on marginalized people, Olga Dies Dreaming is a poignant, scalding debut." — Jaquira Díaz, author of Ordinary Girls

"Olga Dies Dreaming is as funny as it is insightful, as deft as it is original. In this impressive debut, Xochitl Gonzalez displays a gift for capturing the absurdity in the fabric of life. Wit and wisdom rarely combine in such a powerful one-two punch." — Mat Johnson, author of Pym and Loving Day

"Olga Dies Dreaming is a love letter to Brooklyn brimming with the best music, with dreams and sorrows—the stuff of real life. At turns hilarious and heartbreaking, Gonzalez gives us a gripping novel about community, family, betrayal, and the complicated inheritance of diaspora—a wild and ambitious saga that shows once again how the personal is always deeply political. An unforgettable story about finding and defending home." — Jennine Capó Crucet, author of My Time Among The Whites