The Delivery: A Novel (Paperback)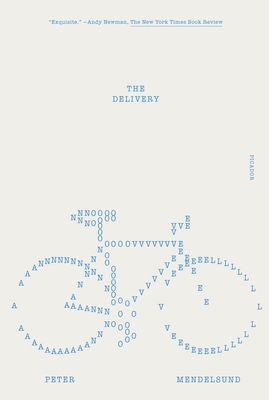 $17.00

Likely on our shelves now
Description
---
Enter the world of the Delivery Boy, who must pedal his way to five-star customer ratings—and, perhaps, freedom—in novelist and graphic designer Peter Mendelsund's The Delivery.

Countries go wrong sometimes, and sometimes the luckier citizens of those countries have a chance to escape and seek refuge in another country—a country that might itself be in the process of going wrong.

In the bustling indifference of an unnamed city, one such citizen finds himself trapped working for a company that makes its money dispatching an army of undocumented refugees to bring the well-off men and women of this confounding metropolis their dinners. Whatever he might have been at home, this citizen is now a Delivery Boy: a member of a new and invisible working class, pedaling his power-assist bike through traffic, hoping for a decent tip and a five-star rating.

He is decidedly a Delivery Boy; sometimes he even feels like a Delivery Baby; certainly he's not yet a Delivery Man, though he'll have to man up if he wants to impress N., the aloof dispatcher who sends him his orders and helps him with his English.

Can our hero avoid the wrath of his Supervisor, get the girl, and escape his indentured servitude? Can someone in his predicament ever have a happy ending? Who gets to decide? And who's telling this story, anyway?

Harrowing and hilarious, The Delivery is a fable for and about our times: an exploration of the ways language and commerce unite and isolate every one of us, native and immigrant both.
About the Author
---
Peter Mendelsund is a novelist, a graphic designer, and the creative director of The Atlantic. Mendelsund is the author of several books about literature and the visual imagination: What We See When We Read, Cover, and The Look of the Book: Jackets, Covers, and Art at the Edges of Literature. His debut novel, Same Same, was published in 2019.
Praise For…
---
"Often exquisite . . . the struggles of the unnamed delivery boy turn on questions of language: its hard-won acquisition, its inadequacies and its power to transport . . . Mendelsund shines a piercing light on a bottom-rung existence. As delivery takes on a meaning closer to grace, you root hard for the deliverer."
—Andy Newman, The New York Times Book Review

"Mendelsund's triumph . . . is the active collaboration between his new novel's subject and its physical form. This relationship between the way words are arranged on the page and their connotative meanings gives The Delivery's economy an Odyssean intensity . . . glaringly innovative . . . Mendelsund artfully transfigures [the novel]."
—Alessandro Tersigni, Los Angeles Review of Books

"Like a symphony played by various instruments . . . The Delivery more than delivers. I was enthralled—perhaps transported is a better word—from the first page right through to the magical conclusion."
—Amanda Holmes Duffy, Washington Independent Review of Books

"Like a millennial Franz Kafka . . . Peter Mendelsund plumbs the absurdities of our society . . . [and] examines the existential despair (and bleak funniness) of the gig economy."
—The Millions (Most Anticipated Books of 2021)

"A timely exploration of alienation and power . . . Brilliant . . . As the delivery boy acquires this new tongue and awareness, the paragraphs grow longer and shapelier . . . An elegant, if somber, parable."
—Kirkus

"[The Delivery] is not only a parable of contemporary capitalism but also a wonderful story, one that . . . launches into a magnificent final act. This is an assured, hugely enjoyable novel full of grace and wit from a writer with a unique vision of what fiction can be."
—Booklist (starred review)

"Mendelsund explores identity, community, and the past's power to influence the future in his stunning latest . . . The author's playful sense of form and command of language make for an original and provocative novel."
—Publishers Weekly (starred review)

"Peter Mendelsund's The Delivery is not only truly original, and gorgeously written, it shines a light on a person, a population, generally invisible to all but themselves, which is among a novel's more profound purposes. It's a remarkable book."
—Michael Cunningham, Pulitzer Prize-winning author of The Hours

"Reading The Delivery is an experience like no other, as though you are listening to a recital that becomes a kind of rich and sentient dream. It is a novel of coldness and warmth, loneliness and consanguinity, and ultimately, great freedom."
—Amina Cain, author of Indelicacy

"The infrastructure that delivers us anything we want, whenever we want it, is the work of millions of anonymous hands, millions of people—mostly unseen, mostly unthanked—who pop up and then disappear. In a quick, staccato style, Peter Mendelsund's haunting fable mirrors these movements, building and building to a startlingly full portrait a world that we too often let flash us by."
—Benjamin Moser, Pulitzer Prize-winning author of Sontag: Her Life and Work

"An intricate fugue, a trickle that gradually builds into a torrent, Mendelsund's astonishing novel is as much a meditation on the capacities of narrative itself—its unanticipated deliverances—as a subtle reflection on the contemporary migration crisis. With its resonant tale of upheaval and adaptation, precarity and solidarity, The Delivery is a parable for our age."
—Brent Hayes Edwards, author of The Practice of Diaspora
Thank you for shopping local!