Aphasia: A Novel (Paperback)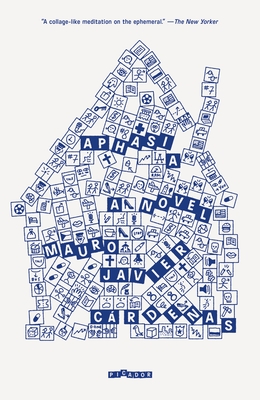 $17.00

Likely on our shelves now
Description
---
Mauro Javier Cárdenas, the critically acclaimed author of The Revolutionaries Try Again—"an original, insubordinate novel" (The New York Times)—pens a profound story of literature about a man coming to terms with his dysfunctional Colombian family, as well as his own behavior, as an immigrant in America

Antonio wants to avoid thinking about his sister, even though he knows he won't be able to avoid thinking about his sister, because his sister is on the run after allegedly threatening to shoot her neighbors, and has been claiming that Antonio, Obama, the Pentagon, and their mother are all conspiring against her. Nevertheless, Antonio is going to try his best to be as avoidant as possible, because he worries that what's been happening to his sister might infect his relatively contented, ordered Los Angeles life and destabilize the precarious arrangement with his ex-wife that's allowed him to stay close to his two daughters.

In fact, he's busy doing everything except facing his problems head-on: transcribing recordings of his mother speaking about their troubled life in Colombia; transcribing recordings of his ex-wife speaking about her idyllic life in Czechia; writing about former girlfriends whose words and deeds recur in his mind; rereading stories by American writers that allow him to skirt the subject of his sister's state of mind without completely destroying his own.

Written in long, unraveling sentences that accommodate all the detritus of thought—scenes real and imagined, headphones and heartache, Toblerones and Thomas Bernhard—Aphasia captures the immensity of the present moment as well as the pain of the past. It cements Mauro Javier Cárdenas's place as one of the most innovative and extraordinary novelists working today.
About the Author
---
Mauro Javier Cárdenas is the author of The Revolutionaries Try Again, which The New York Times called "an original, insubordinate novel." In 2017, the Hay Festival included him in Bogotá39, a selection of the best young Latin American novelists working today.
Praise For…
---
"Cárdenas undercuts the idea of a single, stable identity and suggests the self as a many-layered work in progress . . . Original, richly felt, deftly written. Highly recommended." —Kirkus (Starred Review)

"Reading Aphasia bears similarities to the split reality of living on- and offline. It also echoes the deeper divide of existing between countries, establishing roots in a new place while tending to connections in an old one . . . [The book] dramatizes our growing ability to occupy multiple narratives at once—and proves that literature itself can do the same." —High Country News

"Antonio, the hero of this manic comic novel, is a Colombian database analyst in California, worried that his sister's mental illness will upend his life." —The New York Times (New and Noteworthy)

"The nonstop engine of Cárdenas' prose [and] this quirky, playfully difficult novel will appeal to fans of Latin American fiction that navigates the bleeding edge of experimentation." —Booklist

"Mauro Javier Cárdenas's Aphasia batters at the limits of guilt, of masculinity, of love and promiscuity, of the American family and English syntax." —Nicole Krauss, author To Be a Man and The History of Love

"Mauro Javier Cárdenas has knocked down the novel as we know it, and built a cathedral out of the debris. Aphasia is monumental, funny, potent, and fresh. It marks a new beginning." —Carlos Fonseca, author Natural History

"Brainy and decadent, playful and outrageous, Aphasia marks the comeback of the Self in a spiraling trip into contemporary manhood and the Latin American spirit that will render you speechless." —Pola Oloixarac, author Dark Constellations
Thank you for shopping local!