Wagnerism: Art and Politics in the Shadow of Music (Paperback)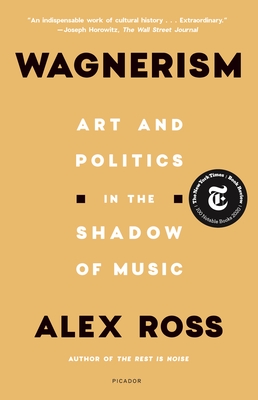 $23.00

Not in the store. We can order it and should have it in store in 3-5 business days.
Description
---
Alex Ross, renowned New Yorker music critic and author of the international bestseller and Pulitzer Prize finalist The Rest Is Noise, reveals how Richard Wagner became the proving ground for modern art and politics—an aesthetic war zone where the Western world wrestled with its capacity for beauty and violence.

For better or worse, Wagner is the most widely influential figure in the history of music. Around 1900, the phenomenon known as Wagnerism saturated European and American culture. Such colossal creations as The Ring of the Nibelung, Tristan und Isolde, and Parsifal were models of formal daring, mythmaking, erotic freedom, and mystical speculation. A mighty procession of artists, including Virginia Woolf, Thomas Mann, Paul Cézanne, Isadora Duncan, and Luis Buñuel, felt his impact. Anarchists, occultists, feminists, and gay-rights pioneers saw him as a kindred spirit. Then Adolf Hitler incorporated Wagner into the soundtrack of Nazi Germany, and the composer came to be defined by his ferocious antisemitism. For many, his name is now almost synonymous with artistic evil.

In Wagnerism, Alex Ross restores the magnificent confusion of what it means to be a Wagnerian. A pandemonium of geniuses, madmen, charlatans, and prophets do battle over Wagner's many-sided legacy. As readers of his brilliant articles for The New Yorker have come to expect, Ross ranges thrillingly across artistic disciplines, from the architecture of Louis Sullivan to the novels of Philip K. Dick, from the Zionist writings of Theodor Herzl to the civil-rights essays of W.E.B. Du Bois, from O Pioneers! to Apocalypse Now.

In many ways, Wagnerism tells a tragic tale. An artist who might have rivaled Shakespeare in universal reach is undone by an ideology of hate. Still, his shadow lingers over twenty-first century culture, his mythic motifs coursing through superhero films and fantasy fiction. Neither apologia nor condemnation, Wagnerism is a work of passionate discovery, urging us toward a more honest idea of how art acts in the world.
About the Author
---
Alex Ross has been the music critic of The New Yorker since 1996. His first book, the international bestseller The Rest Is Noise: Listening to the Twentieth Century, was a finalist for the Pulitzer Prize and won a National Book Critics Circle Award. His second book, the essay collection Listen to This, received an ASCAP Deems Taylor Award. He was named a MacArthur Fellow in 2008 and a Guggenheim Fellow in 2015.
Praise For…
---
The New York Times, 100 Notable Books of 2020 • Chicago Tribune, The 10 Best Books of 2020 • NPR, Best Books of 2020 • Rolling Stone, Best Music Books of 2020 • Financial Times, Best Books of 2020 • Air Mail, Top 10 Books of 2020 • Pitchfork, 15 Favorite Music Books of 2020

"A work of enormous intellectual range and subtle artistic judgment... The book has its own 'Wagnerian' heft and ambitiousness of intent, being nothing less than a history of ideas that spans an arc from Nietzsche and George Eliot to Philip K. Dick, 'Apocalypse Now' and neo-Nazi skinheads . . . Ross has dug deep into some of the most fertile (and occasionally most bizarre) terrain of Western culture, examining and bringing to light the struggles for individuation and self-discovery of a host of reactive minds." —John Adams, The New York Times Book Review

"[Wagnerism] takes up Wagner's protean impact with unprecedented scope . . . The result is an indispensable work of cultural history, offering both a comprehensive resource and a bravura narrative . . . Extraordinary . . . As Mr. Ross richly details, Wagner's appeal to women and gays is a hallmark of his achievement." —Joseph Horowitz, The Wall Street Journal

"Capacious and enthralling . . . In Wagner's operas, sums up Ross, 'we see the highest and the lowest impulses of humanity entangled.' In Wagnerism, however, those impulses—aesthetic, sexual, philosophical and political—are deftly untangled, then enticingly presented for the general reader. The result is a superb example of cultural history and, given its themes, a work surprisingly relevant to this plague-ridden, watershed year." —Michael Dirda, The Washington Post

"Readers who let Ross lead them anew through the 20th century in 2007's The Rest Is Noise will find familiar comforts in his sure guidance and musical prose. But they'll find dazzling new dimensions in his scholarship, as adept with large swaths of history as attentive to small crannies of expertise." —Michael Andor Brodeur, The Washington Post (Best Classical Music of 2020)

"Magnificent . . . Every culture has its own issues with Wagner, and Ross' even hand is especially impressive when taking on the Big One. His explication of Hitler's rise and the legacy of Wagner's anti-Semitism is a moving lamentation . . . In the end, the inconsistencies are what made Wagner matter, and what make Ross today's perfect Wagnerite." —Mark Swed, Los Angeles Times

"Suavely brilliant . . . [This] magnum opus more than a decade in the making sets out to do nothing less than chart the entire scope of Wagner's influence in Western history and culture, including everything from French Symbolist poetry to 'Star Wars.' That capsule description conveys the work's jaw-dropping blend of ambition and erudition, but downplays its easy accessibility." —Joshua Kosman, San Francisco Chronicle

"Here is cultural history that ties together politics, philosophy, sex, war and race . . . Ross is particularly good at picking apart contradiction—and the legacy of anti-Semitism—infamously embodied by Wagnerian ideas. But this is not a biography of a man. It's a tracing of an aesthetic, one overwrought and foundational, and Ross chips away geologic layers to identify the rot. You'll see your world differently." —Christopher Borrelli, Chicago Tribune

"The remarkable trick about Ross's undertaking is in how it steers clear of the usual critical constructions that befall bad artists who make good art . . . Ross has given us a book that does something impressive. Ross, in a rare feat of contemporary criticism, divests himself of his autonomy as a critic, hands it to others, and shows how writing about art is always an intervention between the subject and its beholders." —Mina Tavakoli, The Nation

"One of the many beauties of this incomparably rich book is that it refuses to engage in any simplistic analysis of its subject, who emerges in his full bewildering complexity. It is one of the most valuable books about Wagner I know of, compelling one to engage not merely with the composer and his legacy but with music itself, how it works on us, what it is . . . The miracle of Ross's book is that it is so fresh and so personal; his intellectual stamina, though prodigious, is never flaunted." —Simon Callow, Air Mail

"How far art and artist can be separated is an age-old question . . . By presenting an honest assessment of the problem, Wagnerism supplies, if not answers, then at least the right questions." —The Economist

"Ross's impressive research has uncovered hundreds upon hundreds of Wagnerian references, allusions, and influences in the art and literature of the last 150 years . . . [Ross] offers insightful discussions of Wagner's most significant legacies—for theater direction and narrative technique, for feminism and queer culture, and for revolutionary politics." —Adam Kirsch, The New Republic

"Sumptuous . . . [Ross] fleshes out his story with consummate authority and élan . . . Ross' ambition and broad command of cultural history are peerless . . . [Wagnerism] is one of this year's intellectual triumphs." —Hamilton Cain, Minneapolis Star-Tribune

"Ross is making the difficult argument for complexity, and against great-man hero worship generally . . . For all its authorial caution and scholarly deference, Ross has produced what feels like a deeply personal work . . . Wagnerism is pleasurably readable, even funny . . . Ross' book and his extraordinary scholarship amply suggest that any anxiety over the survival of Wagnerism as a sensibility and theory of art, independent of its creator, is misplaced as well." —Franz Nicolay, Slate

"[A] superb chronicle of obsession, intoxication, hyperbolic exultation, appropriation, exploitation, repudiation, transmutation, and perpetual reinvention—an aerial view of a culture's nervous system as it responds to an unexpected stimulus. In the end, Wagnerism is, however obliquely, very much a book about Wagner and his music, all the richer for being filtered through such a range of listeners and spectators . . . This history of listening becomes a history of consciousness." —Geoffrey O'Brien, Bookforum

"Sweepingly original . . . An endlessly fascinating tour of the lives and works touched by, in his words, 'the chaotic posthumous cult' spawned by a composer with a gift for making impassioned friends and equally impassioned enemies . . . Ross narrates this epic tour while hovering above the fray with a kind of lyrical skepticism that eventually starts to feel like its own quietly principled way of knowing the past: an ethic of reading history against its accumulated layers, granting irony its own power of illumination, and holding open a space for complex, contradictory truths." —Jeremy Eichler, The Boston Globe

"Ross offers a powerful sense of the metamorphoses in Wagnerism across overlapping generations . . . [and] a splendid presentation of American Wagnerism . . . Ross's focus on Wagnerism is at its sharpest when he addresses the long-term ideological implications of what Wagner himself saw as the socially transformative power of opera. The book also offers fascinating insight when Ross considers the more private significance of Wagnerism as a force for shaping personal identities." —Larry Wolff, The Times Literary Supplement

"Alex Ross's massive new book is worthy of its subject. . . [He] makes a convincing—and astonishing—case for Wagner's presence in the modern literary canon . . . Ross states: 'Writing this book has been the great education of my life.' It has much to offer other lives as well." —Steven G. Kellman, The American Scholar

"Illuminating . . . Ross traces the controversial composer's influence across what the author calls the 'artists of silence': novelists, poets, and painters. What makes Wagnerism such a challenging and rewarding read is how Ross comes to terms with that influence . . . Where once was a man, there is now only a shadow. What shape that shadow takes, Wagnerism suggests, says just as much about the beholder as it does about the body that once cast it." —Ashley Naftule, The AV Club

"Ross makes a persuasive case that the nineteenth-century German composer wasn't just the most influential artist of the twentieth and twenty-first centuries, but maybe the most influential artist ever in any form . . . [Wagnerism] confronts the moment's dilemma of how to think about bad men making great art that inspires both more great art and unfathomable evil." —Steve Erickson, LA Magazine

"Entertaining and illuminating . . . [Wagnerism is an] exhilarating and profoundly impressive, stylishly written book . . . [and] a work of prodigious scholarship and deep understanding of the subject." —Michael Halliwell, Australian Book Review

"Ross has written a sweeping and erudite book. In his hands, Wagner becomes a master key that unlocks innumerable facets of modern culture. Ross moves with grace and sophistication across many national contexts and artistic movements . . . And he never lets his enormous learning get in the way of the fun." —Charlie Tyson, The Hedgehog Review

"Reading Wagnerism took me two weeks, and once through with it, I felt as if I'd spent a fortnight in Bayreuth among affable and highly informed friends. It's a magnificent, eminently readable and often entertaining fund of knowledge and I recommend it unreservedly." —Rob Cowan, Gramophone

"What I love best about Wagnerism is Ross's effort to show the teeming floods of fans and their different fandoms, their efforts to grapple with these matters—and their failures—and their adaptations of other failures, and other successes—and above all, the creation, dissolution, and re-creation of communities around the art. That, ultimately, is why he gives us this flood of stories, lives, artworks, anecdotes, conflicts, and creations: to show us not Wagner's triumphs and failures, but those of our living, ongoing world of culture and belief." —Alison Kinney, VAN

"Packed with striking vignettes . . . [Ross's] own Wagnerism remains personal rather than political. In a movingly reticent autobiographical postlude, he describes key moments when he saw his life through Wagner's operas." —David Mikics, Tablet

"Wagnerism chronicles a century and a half of grappling, tracing the outsize effect of Wagner's operas and writings on art, philosophy and politics . . . The case of Richard Wagner can never quite be resolved, but Wagnerism offers a deep exploration of the complex questions he raises." —Fred Cohn, Opera News

"Ross does a good and very full job in tracing the obsession of different times and places, and the intellectual flavour each wave took . . . Ross's book is excellent, and extraordinarily thorough . . . A very thorough account of apparent delusion in search of a fugitive meaning." —Philip Hensher, The Spectator (Australia)

"It's always cause for rejoicing when New Yorker music critic Ross publishes a book, and this latest is on a scale worthy of the composer of the Ring of the Nibelung . . . It's a tribute to the thoughtful and accessible Ross that his conclusions seem both valid and inevitable. With this multifaceted jewel of a book, Ross has produced a monumental study of Wagner's legacy. Eighteen out of 18 anvils." —Bill Baars, Library Journal (starred review)

"Capacious, fascinating . . . A deeply informed history as vigorous as Wagner's music." —Kirkus Reviews (starred review)

"Ross follows Wagner's long reach everywhere: Nietzschean philosophy, high-modernist novels, The Lord of the Rings, cowboy stories, Bugs Bunny cartoons, and such Hollywood epics as Birth of a Nation, Apocalypse Now, and Captain America. Ross manages to tame the sprawl with incisive analysis and elegant prose that casts Wagner's music as 'an aesthetic war zone' . . . A fascinating study of the impact that emotionally intense music and drama can have on the human mind." —Publishers Weekly (starred review)

"An absolutely masterly work . . . A miraculous synthesis. Ross's writing is an art that conceals art, propelling the reader on and on." —Stephen Fry, actor and author of Mythos and Heroes

"Wagnerism is as magnificently realized as it is monumentally ambitious, a cultural history of the modern world that Richard Wagner and his protean art helped mightily to create, and equally a brilliantly synthetic mapping-out of the infinitely multiplying, antagonistic and cross-pollinating readings and misreadings, transformations and transmogrifications that the world has wrought in its unceasing, ongoing grapplings with Wagner. Alex Ross has assembled a vast convocation of the artists, proponents and prophets of realism and hallucination, psychology and mythification, avant-gardism and populism, democracy and fascism, cosmopolitanism and racism, and collectively they offer us an epic account of the progress of modernity through mazes of aesthetics, ideology and consciousness. It's a journey for which Ross is the ideal guide: lucid, astoundingly erudite, scrupulous, generous, profound, objective and engaged, and enormously entertaining." —Tony Kushner, playwright

"In this epic, extraordinary book, Alex Ross contends with the 'infernal logic' of Wagner's legacy, through the centuries and across poetry, literature, art, philosophy, architecture, politics, war, film. Wagnerism is a hugely exhilarating read, and a virtuoso feat of scholarship and supple writing: Ross is such a companionable guide, connecting ideas so casually and unspooling stories so fluidly that you can almost lose sight of the ferocious erudition that undergirds every page. I can't think of a better or more profound work about the long, complicated shadow of cultural influence." —Patrick Radden Keefe, author of Say Nothing

"For those who love Wagner, this book is obviously heaven. But Wagnerism goes far beyond the man himself, using its subject to springboard into a breathlessly entertaining and dizzyingly diverse survey of art, politics and culture over the past century and a half. Ultimately, it's a book about how humans are inspired by art, and like all of Alex Ross's writing, it bottles that strange lightning and inspires us in turn." —Rian Johnson, director of The Last Jedi and Knives Out

"Until now, what I didn't know about Wagner and his influence on culture could have filled a book. Fortunately, Alex Ross's brilliant evocation of the composer's world more than elucidates Wagner's various mysteries—it gives voice to why and how he came to be such a significant political and aesthetic influence on the world stage. Masterfully written and researched, Wagnerism is itself a masterpiece—a breathtaking achievement." —Hilton Als, author of White Girls

"Wagnerism is monumental not only in scale but in accomplishment. Wagner casts a vast shadow over modern culture and it takes an incandescent critical intelligence to illuminate this legacy in its full complexity, distorted by neither hagiography nor demonology . . . Afro-Wagnerians jostle with Nazis, Gilded Age feminists share the stage with Zionists, gay Wagnerians consort with modernist litterateurs. The result is a singular achievement of scholarship, sensibility, and storytelling." —Kwame Anthony Appiah, author of The Lies That Bind

"In this prodigious interdisciplinary opus, encompassing the visual arts, literature, and philosophy, Ross deftly teases out the tremendous and often polarizing impact Wagner's music and theories had on modern culture and history, parsing those luminaries who celebrated the composer and those who reviled him. In doing so—in this prismatic examination conducted through a Wagnerian lens—Ross underscores a paradox at the heart of modernism itself: the tension between the retrograde and the avant-garde and, thus, the political right and left, themes of even greater relevance in our present times." —Vivien Greene, Senior Curator, 19th- and Early 20th-Century Art, Guggenheim Museum

"A masterpiece—massive and magnificent. A book I've been waiting fifty years to read. It turns lights on in regions where I have bumbled in murk." —Peter Schjeldahl, author of Hot, Cold, Heavy, Light, 100 Art Writings 1988–2018

"Attention: a masterpiece! Wagnerism is extraordinary for the richness of references and testimonies drawn from literature, philosophy, the visual arts, musicology, the cinema. It is probably the most informed work on Wagner and his aesthetic and cultural significance that I have ever read." —Jean-Jacques Nattiez, author of Wagner Androgyne
Thank you for shopping local!