Hard Reboot (Paperback)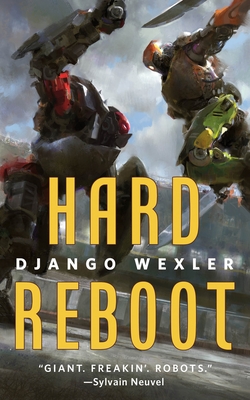 $14.99

Likely on our shelves now
Description
---
Django Wexler's Hard Reboot features giant mech arena battles and intergalactic diplomacy. When did academia get to be so complicated?

Kas is a junior researcher on a fact-finding mission to old Earth. But when a con-artist tricks her into wagering a large sum of money belonging to her university on the outcome of a manned robot arena battle she becomes drawn into the seedy underworld of old Earth politics and state-sponsored battle-droid prizefights.

Is it time to get back to the books, yet?
About the Author
---
Django Wexler is a self-proclaimed computer/fantasy/sci-fi geek. He graduated from Carnegie Mellon University with degrees in creative writing and computer science, worked in artificial intelligence research and as a programmer/writer for Microsoft, and is now a full-time fantasy writer. Django is the author of The Shadow Campaigns, an epic fantasy series for adults published by Roc (an imprint of Penguin), and The Forbidden Library, a classic fantasy series for young readers published by Kathy Dawson Books (an imprint of Penguin Young Readers Group).
Praise For…
---
"Long on mecha action and character development... Though this stands alone, readers would surely welcome further adventures." —Publishers Weekly

"I came for the giant robots and stayed for THE GIANT FREAKIN' ROBOTS TEARING EACH OTHER TO SHREDS. WITH BLADES!" —Sylvain Neuvel

"I can see the speed lines! High octane full-hearted splintered metal entertainment!" —Max Gladstone

"This is exactly the sort of sci-fi we need right now, and Wexler nails it." —Jason Hough

"Pacific Rim meets Thunderdome—the fantastically fun cage-fighting Pacific Rim lesbian romance novel I didn't know I desperately needed in my life—two mechs enter, one mech leaves, and it's FANTASTIC!" —New York Times Bestseller Peter Clines, author of Paradox Bound and Terminu

Praise for Django Wexler:

"Warning: You'll probably be hooked on Wexler's insane 'flintlock fantasy' worldbuilding." —Charlie Jane Anders on "The Penitent Damned"

"A standout.... There's no time like the present to lose oneself in the military and political struggles of the Vordanai Empire." —Fonda Lee on The Shadow Campaigns series

"Ship of Smoke and Steel is a brisk, gritty adventure starring a heroine with genuine agency and power, despite the overwhelming odds stacked against her. The world is sharp and unforgiving, the mysteries are deep, the action is harrowing and triumphant." —Scott Lynch, author of The Lies of Locke Lamora

"A gripping, fast-paced fantasy enrapturing readers until the end… beautifully constructed with tantalizing details that evoke a variety of cultural influences. The characters are well-developed, and diversity—in ethnicity, ability, and sexuality—is abundant." —Kirkus Reviews on Ship of Smoke and Steel

"Wexler... has another engrossing winner on his hands." —Booklist on Ship of Smoke and Steel

"Three cheers for a female protagonist who demonstrates strong leadership skills without losing the prospect of love or friendship." —Kirkus Reviews on The Fall of the Readers

"Wexler is an exceptionally good writer, period." —Foz Meadows on The Shadow Throne
Thank you for shopping local!