The Living and the Lost: A Novel (Paperback)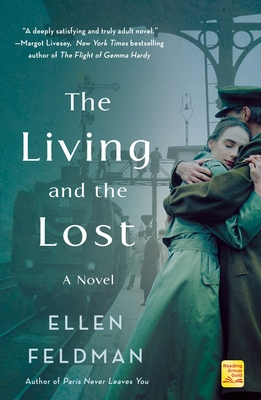 $17.99

Not in the store. We can order it and should have it in store in 3-5 business days.
Description
---
From the author of Paris Never Leaves You, Ellen Feldman's The Living and the Lost is a gripping story of a young German Jewish woman who returns to Allied Occupied Berlin from America to face the past and unexpected future

"A deeply satisfying and truly adult novel." —Margot Livesey, New York Times best-selling author of The Flight of Gemma Hardy

Millie (Meike) Mosbach and her brother David, manage to escape to the States just before Kristallnacht, leaving their parents and little sister in Berlin. Millie attends Bryn Mawr on a special scholarship for non-Aryan German girls and graduates to a magazine job in Philadelphia. David enlists in the army and is eventually posted to the top-secret Camp Ritchie in Maryland, which trains German-speaking men for intelligence work.

Now they are both back in their former hometown, haunted by ghosts and hoping against hope to find their family. Millie, works in the office responsible for rooting out the most dedicated Nazis from publishing; she is consumed with rage at her former country and its citizens, though she is finding it more difficult to hate in proximity. David works trying to help displaced persons build new lives, while hiding his more radical nighttime activities from his sister. Like most of their German-born American colleagues, they suffer from conflicts of rage and guilt at their own good fortune, except for Millie's boss, Major Harry Sutton, who seems much too eager to be fair to the Germans.

Living and working in bombed-out Berlin, a latter day Wild West where drunken soldiers brawl; the desperate prey on the unsuspecting; spies ply their trade; werewolves, as unrepentant Nazis were called, scheme to rise again; black markets thrive, and forbidden fraternization is rampant, Millie must come to terms with a decision she made as a girl in a moment of crisis, and with the enigmatic sometimes infuriating Major Sutton who is mysteriously understanding of her demons.

Atmospheric and page-turning, The Living and the Lost is a story of love, survival, and forgiveness of others and of self.
About the Author
---
Ellen Feldman, a 2009 Guggenheim fellow, is the author of Paris Never Leaves You, Terrible Virtue, The Unwitting, Next to Love, Scottsboro (shortlisted for the Orange Prize), The Boy Who Loved Anne Frank (translated into nine languages), and Lucy. Her novel, Terrible Virtue, was optioned by Black Bicycle for a feature film.
Praise For…
---
NAMED ONE OF BOOKBUB'S BEST HISTORICAL FICTION 2021
A LEE WOODRUFF PICK

"A gorgeous, shattering novel that could not be more timely about the dark damage of hatred and the persistence of love."
—Caroline Leavitt, New York Times bestselling author of Is This Tomorrow

"This exquisite piece of historical fiction... will stay with readers long after the final page is turned."
—Publisher's Weekly

"[A] moving, unsentimental tale, which is also a love story"
—WSHU Public Radio, NPR

"Feldman has captured that period in time when the world and the lives of its survivors was in tatters. Millie finds love but much more: She finds herself. This vivid novel should be required reading for those who are wondering why we still to this day find that it is far easier to hate other people than to pause and try to understand them."
—Historical Novel Society

"An illuminating historical drama with plenty of action and even some romance, evoking a lesser-known historical period"
—Book Page

"[A] thoughtful and affecting page-turner."
—Kirkus

"Feldman steers her characters into the gray areas where it is important to look beneath the surface to find the truth and to extend forgiveness to oneself as tenderly as it is offered to others."
—Booklist

"Engrossing"
—BookBub

"Written in such graceful prose... should appeal to anyone with a willingness to be moved and entertained by an unusually poignant, if occasionally painful, war story."
—East Hampton Review

"Any history fan will enjoy this"
—East Hampton CT Library

"Ellen Feldman masters the two great challenges of the historical novel, mapping the human heart as expertly as she does another time and place A terrific read, brilliantly written."
—Kevin Baker, author of Dreamland and Paradise Alley

"Postwar Berlin springs vividly to life in this engrossing, emotionally powerful novel ...Millie is Feldman's most complex and engaging character yet: tough, smart, and uncompromising, much like the book itself. Beautifully written, rich with detail and a brilliantly drawn cast of characters, The Living and the Lost is a culmination of Feldman's extraordinary powers as a writer with an unrivaled grasp of history and the human heart."
—Liza Gyllenhaal, author of Local Knowledge

"A beautiful, atmospheric novel... Through the eyes and heart of Millie, we consider the pain of turning away, of betrayal, and the price survival exacts. Feldman's crisp, smart dialogue adds to the delight."
—Elizabeth J. Church, author of The Atomic Weight of Love and All the Beautiful Girls
Thank you for shopping local!