The Eighth Detective: A Novel (Hardcover)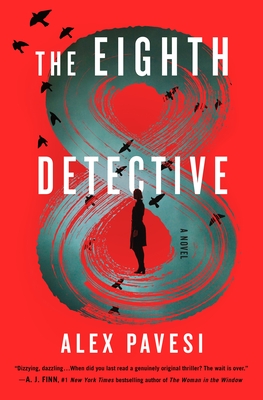 $26.99

Not in the store. We can order it and should have it in store in 3-5 business days.
August 2020 Indie Next List
---
"For an avid mystery reader, this book is deeply satisfying. Short stories are picked apart by a young editor and an older author who are looking for a mathematical standard to the classic detective novel. Each story depicts a variation of victim, killer, and detective, and contains clues to yet another mystery involving the author. Puzzles bloom within puzzles, and the final reveal...well, no spoilers from me, but it was unexpected in the best way!"
— Liesl Freudenstein, Boulder Book Store, Boulder, CO
Description
---
A New York Times Top Ten Thriller of 2020

"Dizzying, dazzling… When did you last read a genuinely original thriller? The wait is over."
—A.J. Finn, #1 New York Times bestselling author of The Woman in the Window

"One of the most innovative mysteries in recent memory." - The Wall Street Journal

There are rules for murder mysteries. There must be a victim. A suspect. A detective.

Grant McAllister, a professor of mathematics, once sat down and worked all the rules out – and wrote seven perfect detective stories to demonstrate. But that was thirty years ago. Now Grant lives in seclusion on a remote Mediterranean island, counting the rest of his days.

Until Julia Hart, a brilliant, ambitious editor knocks on his door. Julia wishes to republish his book, and together they must revisit those old stories: an author hiding from his past and an editor keen to understand it.

But there are things in the stories that don't add up. Inconsistencies left by Grant that a sharp-eyed editor begins to suspect are more than mistakes. They may be clues, and Julia finds herself with a mystery of her own to solve.

Alex Pavesi's The Eighth Detective is a love letter to classic detective stories with a modern twist, where nothing is as it seems, and proof that the best mysteries break all the rules.
About the Author
---
A former bookseller for Waterstones, Alex Pavesi holds a PhD in mathematics and is currently a software engineer for Microsoft in London. His first book, The Eighth Detective, was named a New York Times Top Ten Thriller of 2020.
Praise For…
---
"The reader understands that the book is a meta-story about the nature of mystery writing itself, but it's a sign of Pavesi's skill that we fall headlong into each of his stories. If that means we're pawns in his grand chess game, so be it. His revelations are completely unexpected, right up to the end."
- The New York Times

"Dizzying, dazzling — a potent potion of a thriller, a brew of bibliophilia (think The Shadow of the Wind), wire-taut tension (The Talented Mr. Ripley), and plot swerves so sharp and sudden you risk whiplash with each turn of the page, as bold as the best of Michael Connelly and Lisa Gardner. When did you last read a genuinely original thriller? The wait is over."
— A.J. Finn, #1 New York Times bestselling author of The Woman in the Window

"It's rare for me to read a book in a single day, but I couldn't put The Eighth Detective down. Compelling, clever, and beautifully-constructed. It deserves to be huge. I genuinely wanted to applaud at the end."
— Alex North, New York Times bestselling author of The Whisper Man

"An absolute triumph of a novel. I read it in two greedy gulps. Intelligent and compelling storytelling. Utterly brilliant"
— Ali Land, bestselling author of Good Me Bad Me

"In The Eighth Detective, Alex Pavesi constructs a remarkable puzzle that turns readers into literary detectives with every new twist. Both a celebration and a reinvention of mystery fiction."
— Matthew Pearl, New York Times bestselling author of The Dante Chamber and The Dante Club

"So, so clever. A twisty story and an education in the math of murder mysteries. Agatha Christie would take her hat off to this one. Bravo!"
— Sarah Pinborough, New York Times bestselling author of Behind Her Eyes

"Alex Pavesi has written one of the most creative detective novels of the year…if not of all time. Sharp writing, crisp dialogue, and the end will leave you reeling. An incredible debut novel!"
— Samantha Downing, International bestselling author of My Lovely Wife

"Inventive. . . . Pavesi's language immerses readers in mid-twentieth-century England and in the struggles, cruelties, and oddities of his multitude of carefully portrayed characters. Give this atmospheric puzzle to fans of short stories and of the American Mystery Classics series."
— Booklist, starred review

"The book abounds with complications and twists, and puzzle lovers will have fun predicting the endings of the stories...A satisfying mystery for the casual reader, even more so for the careful one."
— Kirkus

"Ingenius. . . Pavesi is a writer to watch."
— Publishers Weekly