Welcome to the New World (Paperback)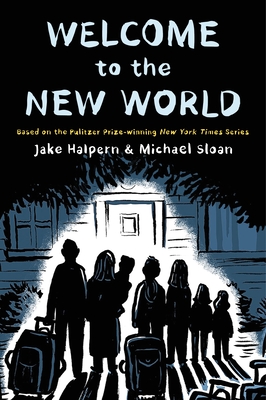 $21.99

Likely on our shelves now
Description
---
Now in a full-length book, the New York Times Pulitzer Prize–winning graphic story of a refugee family who fled the civil war in Syria to make a new life in America

After escaping a Syrian prison, Ibrahim Aldabaan and his family fled the country to seek protection in America. Among the few refugees to receive visas, they finally landed in JFK airport on November 8, 2016, Election Day. The family had reached a safe harbor, but woke up to the world of Donald Trump and a Muslim ban that would sever them from the grandmother, brothers, sisters, and cousins stranded in exile in Jordan.

Welcome to the New World tells the Aldabaans' story. Resettled in Connecticut with little English, few friends, and even less money, the family of seven strive to create something like home. As a blur of language classes, job-training programs, and the fearsome first days of high school (with hijab) give way to normalcy, the Aldabaans are lulled into a sense of security. A white van cruising slowly past the house prompts some unease, which erupts into full terror when the family receives a death threat and is forced to flee and start all over yet again. The America in which the Aldabaans must make their way is by turns kind and ignorant, generous and cruel, uplifting and heartbreaking.

Delivered with warmth and intimacy, Jake Halpern and Michael Sloan's Welcome to the New World is a wholly original view of the immigrant experience, revealing not only the trials and successes of one family but showing the spirit of a town and a country, for good and bad.
About the Author
---
Jake Halpern is the author of Bad Paper, an Amazon Best Book of 2014, and Nightfall, one of a number of young adult novels. His journalism has appeared in the New Yorker, the New York Times, the Wall Street Journal, and the Atlantic, among many other publications. He is also a contributor to NPR's All Things Considered and This American Life and teaches journalism at Yale University in New Haven, where he lives.

Michael Sloan is a printmaker and illustrator whose work appears regularly in the New York Times, the Washington Post, Christian Science Monitor, Boston Globe, and many other places. The Society of Illustrators has honored him with three silver medals for his illustrations. Sloan has lectured widely on his art and also shown his work in solo exhibition. He is also the creator of The Zen of Nimbus comic and he lives in New Haven.
Praise For…
---
"Engaging . . . intimate . . . Sloan and Halpern deliver a story that fully inhabits its comics form, and breathes with an easy visual elegance . . . This real-life story is remarkable."
—Hillary Chute, The New York Times (Editors' Choice)

"Powerful . . . Its granular, journalistic approach takes you to places rarely imagined in terms of the refugee experience . . . truly thought-provoking."
—The Guardian

"Moving . . . The Aldabaans cannot forget all they have lost, but [Welcome to the New World] also documents what they have gained." —NPR

"Perceptive . . . Halpern and Sloan's smart use of humorous and heart-wrenching details particularize the family's story while effectively conveying their political message. . . . For readers raised on Persepolis, this moving documentary portrait hits home."
—Publishers Weekly (starred review)

"By turns heartbreaking and amusing, Welcome to the New World shows the bittersweet life the Aldabaans left behind and the pressure put on them to become independent within months of their arrival. . . . This is journalism at its finest." —Booklist (starred review)

"Moving . . . refreshingly tangible . . . An accessible, informative journey through complex issues during turbulent times."
—Kirkus Reviews

"Illuminating . . . Welcome is not always the response the Aldabaans encounter, but their resilience shines as they work to build the safety and security that will someday allow them to feel at home."
—Shelf Awareness

"Such a gripping story, filled with heartbreak and hope, about a family in search of the elusive dream that is America in the age of Trump. It reminds us that behind words like 'refugee' and 'immigrant' are ordinary people, beautiful in their complexity, diverse in their experiences, with stories that must be told."
—R.J. Palacio, author of Wonder and White Bird

"Our country tends to view refugees as a faceless group of either pitiable victims or job-stealing strangers. Jake Halpern and Michael Sloan have zoomed in very, very close on a single family that we truly get to know. It is impossible to read this moving book without caring about the Aldabaans. In these polarized times, that is a gift of incomparable value."
—Anne Fadiman, author of The Spirit Catches You and You Fall Down

"Deeply reported and beautifully told, Welcome to the New World is the story of our time—immigration to America—seen through the eyes of one Syrian family who will make you understand the trials and delights, day by day, behind the fog of headlines."
—Emily Bazelon, author of Charged

"Welcome to the New World is a project of the greatest humanity and care. Kudos to the authors for their profound artistry and for listening and sharing these stories with such detailed attention. As the child of a Palestinian refugee, I hear the truth of my father's life and so many others echoing here—the utter bravery, the endless hope. Americans need this book to help them understand the sorrow that makes people leave their homeland, the hardships they face, and the resilient dreams they never stop carrying."
—Naomi Shihab Nye, Young People's Poet Laureate and author of Habibi

"Welcome to the New World could not have come at a better time. Deceptively simple and direct, it's a perfect antidote to the suspicion and xenophobia that threatens this country's rich tradition of immigration. The Aldabaans lived through a distant war, but they are utterly relatable, and therein lies this book's great success."
—Barry Blitt, cartoonist and illustrator, The New Yorker
Thank you for shopping local!