Rise Up!: How You Can Join the Fight Against White Supremacy (Hardcover)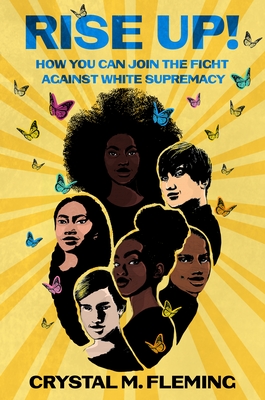 $19.99

Likely on our shelves now
Description
---
This urgent book explores the roots of racism and its legacy in modern day, all while empowering young people with actionable ways they can help foster a better world and become antiracists.

Why are white supremacists still openly marching in the United States? Why are undocumented children of color separated from their families and housed in cages? Where did racism come from? Why hasn't it already disappeared? And what can young people do about it?

Rise Up! breaks down the origins of racial injustice and its continued impact today, connecting dots between the past and present. By including contemporary examples ripped from headlines and actionable ways young people can help create a more inclusive world, sociologist Crystal Marie Fleming shares the knowledge and values that unite all antiracists: compassion, solidarity, respect, and courage in the face of adversity. Perfect for fans of Stamped: Remix, This Book is Antiracist, Uncomfortable Conversations with a Black Boy, and The Black Friend.

Praise for Rise Up!

A Kirkus Reviews Best Book of 2021
A School Library Journal Best Book of 2021
A Booklist Editors' Choice Winner for 2021

* "A clear and damning appraisal of the United States' long-standing relationship with White supremacy—with actionable advice for readers to do better." —Kirkus Reviews, starred review

* "A standout . . . sure to inspire young people to act." —Booklist, starred review

"Rise Up! is the invigorating, thought-provoking, eye-opening, and essential book about fighting white supremacy that I wish I had when I was a teen. Crystal M. Fleming writes about tough subjects with authority and compassion, and inspires with a roadmap for how we can change the world for the better." —Malinda Lo, author of Last Night at the Telegraph Club
About the Author
---
Dr. Crystal M. Fleming is an award-winning sociologist and writer. She is Professor of Sociology and Africana Studies at Stony Brook University. Crystal completed her Ph.D. at Harvard University and publishes scholarly research on racial oppression and anti-racism. She is the author of an academic book on race and white supremacy in France, as well as the critically acclaimed How to Be Less Stupid about Race: On Racism, White Supremacy and the Racial Divide. Her work appears in Newsweek, The Root, Huffington Post, and more. Follow her on Twitter!
Praise For…
---
A Kirkus Reviews Best Book of 2021
A School Library Journal Best Book of 2021
A Booklist Editors' Choice Winner for 2021

* "A clear and damning appraisal of the United States' long-standing relationship with White supremacy—with actionable advice for readers to do better." —Kirkus Reviews, starred review

* "This absorbing, thoroughly researched book provides an in-depth look at racism and offers steps young readers can take to become antiracist advocates. . . The book's positivity, depth of information not mentioned in other books for this age group, and the five steps provided to help people become antiracist advocates make this a standout and are sure to inspire young people to act." —Booklist, starred review

* "A valuable research and classroom text that will build up an inspire young activists." —School Library Journal, starred review

* "This book uses gentle, approachable language to discuss a heavy topic with young adults of all races who are searching for change." —Publishers Weekly, starred review

"Rise Up! is the invigorating, thought-provoking, eye-opening, and essential book about fighting white supremacy that I wish I had when I was a teen. Crystal M. Fleming writes about tough subjects with authority and compassion, and inspires with a roadmap for how we can change the world for the better." —Malinda Lo, National Book Award-nominated author of Last Night at the Telegraph Club

"Rise Up! is a book that I wish had been around when I was a teen! Sociologist Crystal Fleming exercises powerful ideas and teaching in this compassionate call to action. With an offering of barely-taught historical facts, characteristic quality writing and deft research skills, Fleming discusses the consequences of racism, settler colonialism, and other harmful forces that created the foundation of our society. Rise Up! is Fleming's act of love to the next generation, offering knowledge to build awareness, motivation to right the wrongs of our nation's past and present, and hope to create a brighter future. It's a must-read and an excellent teaching resource!" —Prudence L. Carter, Brown University, author of Stubborn Roots: Race, Culture and Inequality in U.S. and South African Schools

"Fleming provides readers with the language and knowledge necessary to begin an antiracist journey and offers five steps they can take to create change. She notes from the outset that racism can be an uncomfortable subject but expresses hope that teens learning about it early can enact change." —Horn Book

Praise for How to Be Less Stupid About Race

* "A crash course in what will be a radically new perspective." —Kirkus Reviews, starred review

"[A]n insightful and irreverent text . . . her work is truly accessible; she breaks down complex concepts and constructs arguments effectively in jocular, witty prose." —Publishers Weekly

"Exceptionally well written, organized and presented." —Midwest Book Review

"Fleming's strength is her expertise as a sociologist . . . she wields her data like a sword, shredding racist nonsense." —The Christian Century
Thank you for shopping local!