Cost of Living: Essays (Hardcover)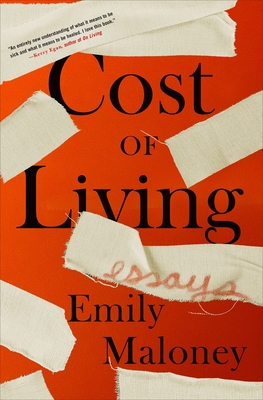 $27.99

Not in the store. We can order it and should have it in store in 3-5 business days.
Description
---
A Best Book of 2022 - USA TODAY
Named a Chicago Tribune "Best Book of 2022"

"Astute, compassionate and lethally funny. Maloney is an exceptionally alert writer on whom nothing is lost, who sees everything with excruciating clarity." —Sarah Manguso, The New York Times

The searing intimacy of Girl, Interrupted combines with the uncomfortable truths of The Empathy Exams in a collection of essays chronicling one woman's experiences as both patient and caregiver, giving a unique perspective from both sides of the hospital bed.

What does it cost to live?

When we fall ill, our lives are itemized on a spreadsheet. A thousand dollars for a broken leg, a few hundred for a nasty cut while cooking dinner. Then there are the greater costs for even greater misfortunes. The car accidents, breast cancers, blood diseases, and dark depressions.

When Emily Maloney was nineteen she tried to kill herself. An act that would not only cost a great deal personally, but also financially, sending her down a dark spiral of misdiagnoses, years spent in and out of hospitals and doctor's offices, and tens of thousands owed in medical debt. To work to pay off this crippling burden, Emily becomes an emergency room technician. Doing the grunt work in a hospital, and taking care of patients at their most vulnerable moments, chronicling these interactions in searingly beautiful, surprising ways.

Shocking and often slyly humorous, Cost of Living is a brilliant examination of just what exactly our troubled healthcare system asks us to pay, as well as a look at what goes on behind the scenes at our hospitals and in the minds of caregivers.
About the Author
---
Emily Maloney's work has appeared in Glamour, Virginia Quarterly Review, Best American Essays, and the American Journal of Nursing, among others. She has worked as a dog groomer, pastry chef, general contractor, tile setter, and catalog model and has sold her ceramics at art fairs. Maloney has twice been awarded a MacDowell Fellowship. She lives in Evanston, Illinois. Her books include Burn This House Down and Cost of Living.
Praise For…
---
A Best Book of 2022 - USA TODAY
Named a Chicago Tribune "Best Book of 2022"
Shortlisted for the 2022 CHIRBy Awards

"Maloney's essays . . . start with a question and work things out on the page. . . They notice everything and have nothing to prove. They don't prematurely grasp at an ending. These qualities combine to elevate this collection far above the usual first-person essayistic fare. Her broad authority and the quality of the prose — astute, compassionate and lethally funny — are what make these essays remarkable."
—Sarah Manguso, The New York Times

"Cost of Living is bracingly real, whether Maloney's subject is herself or the medical field she knows as both patient and professional. The book is sure to haunt your imagination the next time you enter the labyrinthine health care system and face the expenses, financial and otherwise."
—USA Today

"In Cost of Living, author Emily Maloney might make you laugh. At a minimum, she'll open your eyes to some of the more dysfunctional aspects of the U.S. healthcare system…Wry and unflinching."
—Forbes

"An analysis of health care, an analysis of soul, this book is both tender and bold."
—Good Morning America

"A riveting new collection of essays about [Maloney's] history with therapists, drugs they prescribed, her chaotic Illinois upbringing and the inevitable cost of health care."
—The Chicago Tribune

"Cost of Living explores the financial, physical and psychic toll of trying to survive within a broken system. It's a complicated and intimate tale of the messy healthcare apparatus we're all at the mercy of."
—Salon.com

"A fascinating new essay collection that considers what it means to give, and receive, care. It's a book that couldn't be more timely. This isn't just a thoughtful, compassionate book; it's also an essential one."
—Minneapolis Star Tribune

"Maloney artfully unpacks the fraught connection between money and health in her brilliant debut collection. Maloney is masterful at beginning in a place of skepticism and ending with empathy, all while weaving in her own fascinating story. Readers will be eager to see where she goes next."
—Publishers Weekly (starred review)

"Sharp personal essays"
—Kirkus

"Maloney's behind-the-scenes look at health care and how the system works is in equal parts heart-wrenching, humorous, and infuriating; an important work for readers who have experienced health care in the United States or who seek to understand the industry."
—Library Journal

"I've never read anything like Emily Maloney's Cost of Living, a devastatingly precise, thoughtful accounting of what it costs to stay alive in capitalist America. In essays rife with vivid characters in unforgettable scenes and stitched through with vulnerability, Maloney offers a clear-eyed assessment of our disastrous medical system. From the years-long medical debt of surviving a suicide attempt to the deadly fate facing untreated pain patients, Maloney's writing indicts the system while honoring the humanity of those caught in it. Everyone with a mortal body should read this book. I hope it creates change."
—Alex Marzano-Lesnevich, author of The Fact of a Body

"Emily Maloney has written a luminous book on one of the greatest shames in American society: our avaricious health-care system. In essays which humanize the subject through incredibly rich character detail, Maloney has offered a beating heart to every reader who feels. What we do with that heart is up to us. I hope everyone reads this."
—Garrard Conley, New York Times bestselling author of Boy Erased

"A disturbing book – an indictment of a health-care system that burdens the already burdened with bills they can't pay – but also, such an exhilarating read: lucid, mordant, and awake, awake, awake."
—Joan Wickersham, author of The Suicide Index and The News from Spain

"Emily Maloney's Cost of Living is a brilliant book, a staggering indictment of a brutal and arbitrary health-care system that shapes our days in ways so small it often goes right over our heads. On top of that, it's gorgeously written--clear, exacting, rigorous, compassionate--in sentences that lift off the page like song."
—Paul Lisicky, author of Later: My Life at the Edge of the World

"Emily Maloney writes from a vantage point completely unlike any other and takes us on a tour, both fascinating and harrowing, of the various costs of the health-care system: financial, physical, emotional, spiritual. Cost of Living is a desperately needed book that offers the reader an entirely new understanding of what it means to be sick and what it means to be healed. I love this book."
—Kerry Egan, author of On Living

"In Cost of Living, Emily Maloney explores from many perspectives, and with deep empathy, intelligence, and humor the real suffering caused by medical debt and the underpayment of healthcare workers. Like Barbara Ehrenreich's Nickel and Dimed and Atul Gawande's Complications, Maloney's memoir is at once illuminating and alarming. It will leave readers asking: why has no one ever written a book like this before?"
—Suzanne Koven, MD, author of Letter to a Young Female Physician

"Emily Maloney's deeply affecting and astute collection of essays are offered to the reader as a kind of gift to be savored. There is such melancholic richness throughout; each one must be unwrapped slowly and contemplated gently. Within each essay is a steady stream of rational sense-making and introspection, gracefully intertwined with all that is utterly incomprehensible about the medical industry, mental illness, and life itself."
—Rana Awdish, MD, author of In Shock
Thank you for shopping local!