Bomb (Graphic Novel): The Race to Build--and Steal--the World's Most Dangerous Weapon (Paperback)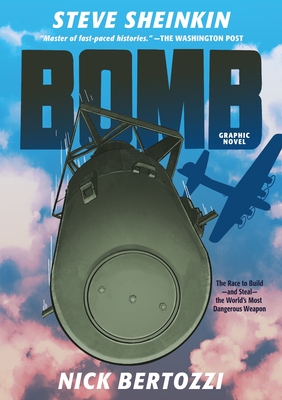 $17.99

Not in the store. We can order it and should have it in store in 3-5 business days.
Description
---
A riveting graphic novel adaptation of the award-winning nonfiction book, Bomb—the fascinating and frightening true story of the creation behind the most destructive force that birthed the arms race and the Cold War.

In December of 1938, a chemist in a German laboratory made a shocking discovery: When placed next to radioactive material, a Uranium atom split in two. That simple discovery launched a scientific race that spanned three continents.

In Great Britain and the United States, Soviet spies worked their way into the scientific community; in Norway, a commando force slipped behind enemy lines to attack German heavy-water manufacturing; and deep in the desert, one brilliant group of scientists, led by "father of the atomic bomb" J. Robert Oppenheimer, was hidden away at a remote site at Los Alamos. This is the story of the plotting, the risk-taking, the deceit, and genius that created the world's most formidable weapon. This is the story of the atomic bomb.

New York Times bestselling author Steve Sheinkin's award-winning nonfiction book is now available reimagined in the graphic novel format. Full color illustrations from Nick Bertozzi are detailed and enriched with the nonfiction expertise Nick brings to the story as a beloved artist, comic book writer, and commercial illustrator who has written a couple of his own historical graphic novels, including Shackleton and Lewis & Clark.

Accessible, gripping, and educational, this new edition of Bomb is perfect for young readers and adults alike.

Praise for Bomb (2012):
"This superb and exciting work of nonfiction would be a fine tonic for any jaded adolescent who thinks history is 'boring.' It's also an excellent primer for adult readers who may have forgotten, or never learned, the remarkable story of how nuclear weaponry was first imagined, invented and deployed—and of how an international arms race began well before there was such a thing as an atomic bomb." —The Wall Street Journal

"This is edge-of-the seat material that will resonate with YAs who clamor for true spy stories, and it will undoubtedly engross a cross-market audience of adults who dozed through the World War II unit in high school." —The Bulletin (starred review)

Also by Steve Sheinkin:

Fallout: Spies, Superbombs, and the Ultimate Cold War Showdown
The Port Chicago 50: Disaster, Mutiny, and the Fight for Civil Rights
Undefeated: Jim Thorpe and the Carlisle Indian School Football Team
Most Dangerous: Daniel Ellsberg and the Secret History of the Vietnam War
Born to Fly: The First Women's Air Race Across America
The Notorious Benedict Arnold: A True Story of Adventure, Heroism & Treachery
Which Way to the Wild West?: Everything Your Schoolbooks Didn't Tell You About Westward Expansion
King George: What Was His Problem?: Everything Your Schoolbooks Didn't Tell You About the American Revolution
Two Miserable Presidents: Everything Your Schoolbooks Didn't Tell You About the Civil War
About the Author
---
Steve Sheinkin is the acclaimed author of fast-paced, cinematic nonfiction histories, including Fallout, Undefeated, Born to Fly, The Port Chicago 50, and Bomb. His accolades include a Newbery Honor, three Boston Globe–Horn Book Awards, a Sibert Medal and Honor, and three National Book Award finalist honors. He lives in Saratoga Springs, New York, with his wife and two children.

Nick Bertozzi has written and drawn many comics over the years, including Becoming Andy Warhol, The Salon, Lewis & Clark, and the New York Times bestselling Shackleton: Antarctic Odyssey. Bertozzi has won two Harvey and has taught Cartooning at the School of Visual Arts since 2003. He lives in Queens, New York, with his wife and daughters.
Praise For…
---
"[T]he author expertly juggles multiple plotlines to tell a coherent tale at breakneck speed... A heady whirl of science and spycraft made even more immediate (and frightening) by strong visuals." —Kirkus, starred review

"In this haunting, dramatic graphic novel, the original Sheinkin book about the Manhattan Project is seamlessly transformed into a new format." —The Bulletin of the Center of Children's Books, starred review

"Sheinkin's work of award-winning narrative nonfiction is here sharpened by the author's own graphic adaptation—and portrayed through Bertozzi's skillful cartooning." —Horn Book, starred review

"Sheinkin and Bertozzi take the story of one of the most significant events in recent world history and make it accessible to all readers, regardless of background knowledge." —School Library Journal, starred review

"Triumphant, thrilling and, at times, heartbreaking... [Bomb] offers an accessible way to learn about one of the most significant inventions in human history." —Shelf Awareness

"Sheinkin once again shows his versatility with this simple yet powerful format shift." —Booklist

"[Makes] the complicated science and politics behind the development of the first atomic bombs understandable." —School Library Connection