Western Alliances: A Novel (Hardcover)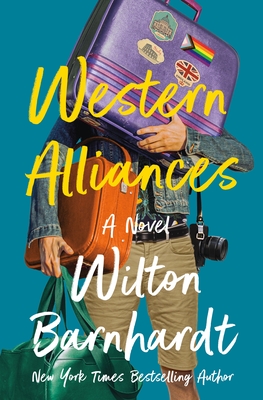 $29.00

Not in the store. We can order it and should have it in store in 3-5 business days.
Description
---
From the New York Times-bestselling author of Lookaway, Lookaway, Wilton Barnhardt's Western Alliances is a vivid portrait of a wealthy family set against the backdrop of the 2008 financial crisis. This laugh-out-loud, darkly funny novel follows the Costa family—whose members are every bit as richly absurd as the characters in HBO's Succession.

Salvador, the patriarch, runs one of Wall Street's biggest banks the summer before everything collapses; Roberto and Rachel, his two children, have never worked a day in their lives; and Lena, his ex-wife, is a scheming hypochondriac. Part travelogue, part epic family drama, the novel follows Roberto and Rachel across Europe as the two dilettantes come to terms with their father's choices and the repercussions of his actions.

Oozing with his signature satire and biting wit, Barnhardt invites readers on a literary romp from an elegant Paris apartment to a hilariously-inept London hotel, ancient churches and crypts to gleaming Mediterranean coasts, hot dog stands in Providence, RI to the best places in Manhattan, and terrifying encounters in the Serbian countryside to dangerous liaisons in Moscow, as two grown-up rich kids are forced to come of age at last. In Western Alliances Barnhardt he delivers an un-put-down-able saga examining privilege, loyalty, ambition, and what family members owe to one another.
About the Author
---
Wilton Barnhardt is the author of Lookaway, Lookaway, a New York Times bestseller. His previous novels are Gospel, Show World, and Emma Who Saved My Life. A native of Winston-Salem, North Carolina, he teaches fiction in the master of fine arts in creative writing program at North Carolina State University in Raleigh, where he lives.
Praise For…
---
"[D]eftly plotted . . . [and] great fun. . . A likable, smart, wide-ranging ramble." --Kirkus


"A biting and hilarious indictment of generational wealth and its effects. Any fiction reader would enjoy." --Library Journal

"Fans of HBO's Succession will be attracted to the backstabbing and debauchery on gaudy display in Barnhardt's campy, steamy social satire." --Booklist

"Effortlessly engaging... Barnhardt writes with so much wit and sophistication." --Wall Street Journal

"There's a line in this capacious, deeply satisfying and riotous novel about how the U.S 'has skipped smilingly through history.' Well, that's been my experience reading through this story about the adventures, crossing the wide world, of Roberto and Rachel Costa. Wilton Barnhardt's novel belongs on the first shelf of our grownup pleasures. Don't miss it." --Richard Bausch, PEN/Malamud award-winning author of The Last Good Time