Deep Down Dark: The Untold Stories of 33 Men Buried in a Chilean Mine, and the Miracle That Set Them Free (Paperback)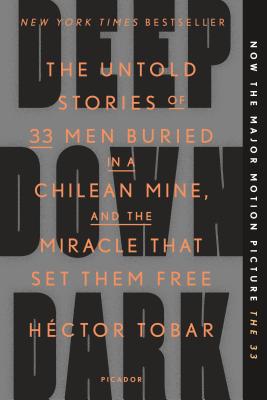 $16.00

Should be on our shelves now -- but wait for confirmation from us before coming to pick up. We'll respond to your order shortly.
Description
---
Deep Down Dark is the novel that inspired the film The 33 starring Lou Diamond Phillips, Cote de Pablo and Antonio Banderas.

When the San José mine collapsed outside of Copiapó, Chile, in August 2010, it trapped thirty-three miners beneath thousands of feet of rock for a record-breaking sixty-nine days. After the disaster, Pulitzer Prize-winning journalist Héctor Tobar received exclusive access to the miners and their tales, and in Deep Down Dark, he brings them to haunting, visceral life. We learn what it was like to be imprisoned inside a mountain, understand the horror of being slowly consumed by hunger, and experience the awe of working in such a place-underground passages filled with danger and that often felt alive. A masterwork of narrative journalism and a stirring testament to the power of the human spirit, The 33: Deep Down Dark captures the profound ways in which the lives of everyone involved in the catastrophe were forever changed.

A Finalist for a National Book Critics Circle Award
A Finalist for a Los Angeles Times Book Prize
A New York Times Book Review Notable Book
Selected for NPR's Morning Edition Book Club
About the Author
---
Héctor Tobar is a Pulitzer Prize–winning journalist and novelist. He is the author of the critically acclaimed, New York Times bestseller, Deep Down Dark, as well as The Barbarian Nurseries, Translation Nation, and The Tattooed Soldier. Héctor is also a contributing writer for the New York Times opinion pages and an associate professor at the University of California, Irvine. He's written for The New Yorker, The Los Angeles Times and other publications. His short fiction has appeared in Best American Short Stories, L.A. Noir, Zyzzyva, and Slate. The son of Guatemalan immigrants, he is a native of Los Angeles, where he lives with his family.
Praise For…
---
"Vivid, suspenseful, [and] electrifying." —People

"The equal, if the geographical inverse, of Into Thin Air." —Maureen Corrigan, NPR's Fresh Air

"Weaving together the drama of the miners' harrowing ordeal below ground with the anguish of families and rescuers on the surface, Tobar delivers a masterful account of exile and human longing, of triumph in the face of all odds. Taut with suspense and moments of tenderness and replete with a cast of unforgettable characters, Deep Down Dark ranks with the best of adventure literature." —Scott Wallace, Los Angeles Times

"Whether the story is completely new to you, or if you were one of the millions glued to the news reports and wondering, will they make it-physically, emotionally, spiritually-you'll be greatly rewarded to learn how they did." —Mac McClelland, The New York Times Book Review (Editors' Choice)

"Héctor Tobar takes us so far down into the story and lives of the Chilean miners that his reconstruction of a workplace disaster becomes a riveting meditation on universal human themes. Deep Down Dark is an extraordinary piece of work." —George Packer

"In this masterful dissection of the 2010's dramatic sixty-nine day ordeal by thirty-three trapped Chilean miners, Héctor Tobar weaves a suspenseful narrative that moves back and forth between the waking nightmares of the buried men, and those of their families on the earth's surface. In Deep Down Dark, Héctor Tobar takes us deftly to the very cliff-edge of human survival." —Jon Lee Anderson

"It's almost hard to believe that Héctor Tobar wasn't himself one of the trapped Chilean miners, so vivid, immediate, terrifying, emotional, and convincing is his Homeric narration of this extraordinary incident. Deep Down Dark is a literary masterpiece of narrative journalism, surgical in its reconstruction, novelistic in its explorations of human personality and nuance. In a manner that feels spiritual, Tobar puts himself at the service of his story, and his fidelity to and unquenchable curiosity about every fact and detail generates unforgettable wonderment and awe." —Francisco Goldman

"A gripping narrative, taut to the point of explosion." —Kirkus Reviews (starred review)

"My favorite book of the year. Perfect for fans of Unbroken." —Ann Patchett, People

"An account that brims with emotion and strength." —USA Today

"A powerful tale of universal interest." —The Christian Science Monitor

"That Tobar has so vividly reconstructed a life-threatening event remembered differently by thirty-three minds is a mountainous feat of reportage." —The Washington Post