This View of Life: Completing the Darwinian Revolution (Paperback)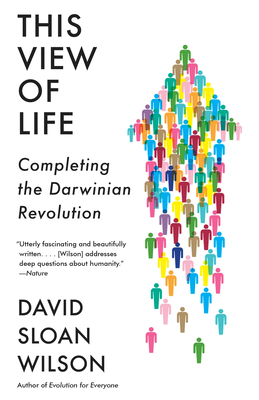 $17.00

Should be on our shelves now -- but wait for confirmation from us before coming to pick up. We'll respond to your order shortly.
Description
---
It is widely understood that Charles Darwin's theory of evolution completely revolutionized the study of biology. Yet, according to David Sloan Wilson, the Darwinian revolution won't be truly complete until it is applied more broadly—to everything associated with the words "human," "culture," and "policy."

In a series of engaging and insightful examples—from the breeding of hens to the timing of cataract surgeries to the organization of an automobile plant—Wilson shows how an evolutionary worldview provides a practical tool kit for understanding not only genetic evolution but also the fast-paced changes that are having an impact on our world and ourselves. What emerges is an incredibly empowering argument: If we can become wise managers of evolutionary processes, we can solve the problems of our age at all scales—from the efficacy of our groups to our well-being as individuals to our stewardship of the planet Earth.
About the Author
---
An evolutionary biologist with a special interest in human biocultural evolution, DAVID SLOAN WILSON is SUNY Distinguished Professor of Biology and Anthropology at Binghamton University. His books include Evolution for Everyone, The Neighborhood Project, Does Altruism Exist?, and Darwin's Cathedral. He is the president of the Evolution Institute and editor in chief of the institute's magazine, This View of Life.
Praise For…
---
"Utterly fascinating and beautifully written. . . . [Wilson] addresses deep questions about humanity: how we can avoid physical or mental illnesses, raise children, make groups more effective, create sustainable economies and nurture better planetary stewards. . . . This View of Life should . . . be on everyone's bedside table—company heads and policymakers included. I'll be leaving a copy in the rented cottage outside Bristol where I am staying, confident that it will change future guests' own view of life."
—Monique Borgerhoff Mulder, Nature

"A forward-looking positive vision. . . . Wilson aims to break evolution out of its biological box, offering it as a universal framework for understanding and shaping human phenomena."
—Razib Khan, National Review

"This book is powerful, inspirational, and forward-thinking. Interested in how we can shape a brighter tomorrow? Read this book."
—Glenn Geher, Psychology Today

"Splendid . . . An excellent argument that evolution applies to culture as well as organisms . . . [Wilson is] a masterful educator." 
—Kirkus (starred review)

"David Sloan Wilson has long been one of the most visionary and trail-blazing evolutionary biologists around, forcing the field to recognize that evolutionary change occurs from far more than selection solely at the level of the gene. In This View of Life, he explores the various surprising things that 'evolution' is and isn't, and its relevance to everything from everyday life to global policy decisions. It's thick with ideas and insights, written in a graceful, accessible style." 
—Robert Sapolsky, New York Times bestselling author of Behave and Professor of Biology and Neurology at Stanford University

"Social policy as a branch of biology? Even if this at first strikes you as preposterous, keep on reading. There are so many new ideas and perspectives in this delightful and thought-provoking book that it would be your loss if you did not engage with it. Not everybody will agree with the main thesis in this book, but I expect that everybody's way of thinking will be challenged and ultimately enriched by it." 
—Daron Acemoglu, New York Times Bestselling co-author of Why Nations Fail and the Killian Professor of Economics at MIT
 
"David Sloan Wilson is a clear-headed, sound-thinking, realistic idealist, and a great writer to boot.  In this brilliant work he shows us how an evolutionary worldview can not only help us understand who we are—as a species, as individuals, and as a society—but can also help us develop better policies for our long-term good as social beings." 
—Peter Gray, Research Professor at Boston College and author of Free to Learn:  Why Unleashing the Instinct to Play Will Make Our Children Happier, More Self-Reliant, and Better Students for Life.

"I thought I understood evolutionary theory, but I never expected to see so much of human psychology, society, and economics through its lens. Rarely has a book so effectively changed the way I view the world." 
—Tim O'Reilly, founder of O'Reilly Media and author of WTF: What's the Future and Why It's Up to Us

"With This View of Life, master biologist David Sloan Wilson advances the case for evolutionary theory as essential in understanding the human condition. Using accessible and powerful prose, Wilson first spells out what evolution is—and then he goes on to vividly demonstrate how evolution can help us make better policies and live richer lives. This book should be read by anyone who is interested in what it means to be human and how to make the world a better place."
—Glenn Geher, co-author of Mating Intelligence Unleashed and Founding Director of Evolutionary Studies, State University of New York at New Paltz