The Notebooks of Gertrude Stein (Hardcover)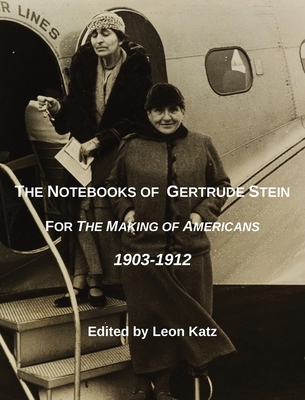 $69.95

Not in the store. We can order it and should have it in store in 3-5 business days.
Description
---
The Notebooks of Gertrude Stein for The Making of Americans, 1903-1912, book is Professor Leon Katz's long anticipated full reconstruction, editing, annotation and "decoding" of Gertrude Stein's Notebooks covering her early years in Paris and her creation of her great modernist masterpiece, The Making of Americans.
This book was born in Yale University's Beinecke Library in 1954, when Professor Katz found several boxes of Stein's papers and began to put them in order, soon realizing they contained not only the source material, from Gertrude's own life, that could for the first time make comprehensible the dense impenetrable prose of The Making of Americans but also could shed enormous light on her famous life in France, her relationships with Picasso, Matisse, Hemingway and hundreds more.
The Notebooks contains:
Katz's transcriptions of Stein's notebook entries
Comments by Alice B. Toklas on the individual entries, elicited by Katz over 5 months in 1954
Further comments by Katz on the entries and on Toklas' reactions.
Katz's theory of Stein's approach to the the novel.
Over the years and decades the reputation of this book has grown enormous.
Virgil Thomson, after reading an earlier draft of this book, said it is "a new pinnacle, high and possibly dangerous to inexpert negotiation, like a partly exposed iceberg, known as the Katz manuscript."
Janet Malcolm wrote in The New Yorker in 2005: "Although it has never come out as a printed book, in the world of Stein criticism and scholarship, it has become a kind of cult classic."
Janet Malcolm also wrote that she and every Stein scholar she interviewed believe that The Making of Americans will only take its place "among the monuments of literary modernism" when the Leon Katz manuscript is published and Stein's book can finally be "understood, decoded, taught to students and appreciated by them."