Start Here: A Crash Course in Understanding, Navigating, and Healing From Narcissistic Abuse (Paperback)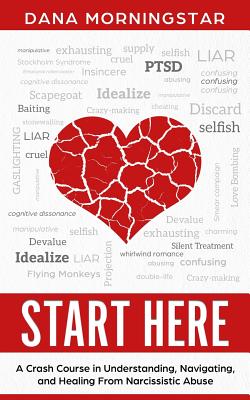 $16.95

Not in the store. We can order it and should have it in store in 3-5 business days.
Description
---
Are you in a relationship or dynamic with a person that can be best described as an emotional rollercoaster, toxic, draining, crazy-making, or confusing?
Have you wondered why they never seem to change--no matter how much you are willing to do for them, or how much love, understanding, rehab, religion, therapy, second (or twenty-second) chances you've given them?
Do you feel as though if you tried harder that eventually you could earn their love, respect, loyalty, honesty, or be treated with dignity and respect?
If so, you are not alone and this book is a great place to start.
This book covers:
- The most common words and definitions (along with examples) surrounding narcissists, sociopaths, and narcissistic
abuse, such as "flying monkeys," "hoovering," "narcissistic abuse," "love bombing," "trauma bonding," "C-PTSD," "scapegoat," "reactive abuse," as well as dozens of additional words and concepts that will most likely help everything make a lot more sense.
- Understanding the cycle of narcissistic abuse (and what is really looks like in motion).
- The different ways that emotional manipulators go about exploiting your vulnerabilities.
- Frequently asked questions about narcissistic abuse.
- Elements to consider if you are planning to leave so you can do it as safely as possible.
- What to anticipate after breaking up with a narcissist, sociopath, psychopath, or any other type of emotional
manipulator.
- How to find a support group and privacy concerns to consider when joining one.
- A section for friends and family for how to help support a loved one who is in a narcissistically abusive relationship or dynamic.
And much, much more.