Life in the Shallows: The Wetlands of Aotearoa New Zealand (Paperback)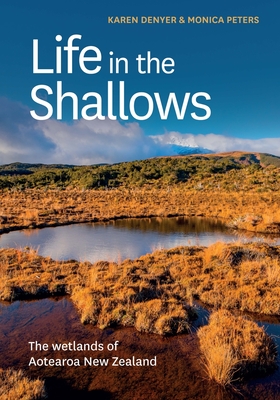 $66.00

Coming Soon - Available for Pre-Order Now
Description
---
Rich and diverse but often unloved, Aotearoa's wetlands are the most vulnerable of our ecosystems. Only a tiny fraction of their original extent remains, and we continue to lose this vital habitat. The race is on to discover more about them while we still can. This highly illustrated and absorbing book introduces and explores the wetlands of Aotearoa through the work and experiences of our leading researchers. It also explores the deep cultural and spiritual significance they have for Maori, and the collaboration of matauranga Maori and western science in continuing to improve our understanding of these special places. Featuring wetlands to visit all around the country, descriptions of the rich bird, insect, and plant life that can be found there, and some of the innovative ways we can protect and restore them, Life in the Shallows is a key resource for those who want to explore, understand, and care for these precious places. All proceeds from book sales go to the National Wetland Trust to further its wetland advocacy work.
About the Author
---
Karen Denyer, MSc, Dip Envt Mgt, is the Executive Officer of the National Wetland Trust (NWT) and a freelance ecologist. With a background in botany, she undertakes wetland and terrestrial assessment and field monitoring for a range of clients. However, she is equally happy leading projects to translate science into pragmatic policy, supplying resources to support community-led conservation initiatives, and raising awareness of wetlands. Monica Peters works freelance at the interface between science, conservation, and the public. After studying fine arts, she completed a PhD on community conservation and citizen science. She is a founding member and co-chair of the Citizen Science Association of Aotearoa New Zealand (#CitSciNZ, established in 2019) and co-led a three-year project to investigate citizen science in the context of ecological restoration. In 2019 she was awarded a Winston Churchill Fellowship to research citizen science policy, programmes, and applications in Asia and Europe.
Thank you for shopping local!