Traditional Weavers of Guatemala: Their Stories, Their Lives (Paperback)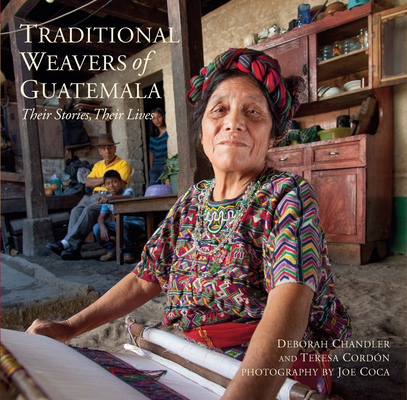 $34.95

Backordered at our distributor but we can check availability from the publisher.
Description
---
Against the backdrop of Guatemala, this book presents portraits of artisans working in the ancient traditions of the Maya paired with insights into the creation of the textiles and the events that have affected their work. Weaving, spinning, and basket making have sustained the Maya economically and culturally against the pressures of change and a 36-year civil war that decimated their population. Their persistence in continuing traditional art has created some of the loveliest, most colorful textiles the world has ever known. Artisans share their personal histories, hopes, and dreams along with the products of their hands and looms. Their stories show determination in the face of unimaginable loss and hardship which instill an appreciation for the textiles themselves and for the strong people who create them.
About the Author
---
Deborah Chandler is the creator and director of Weaving Futures, where she has had the pleasure and honor of working with many Mayan weavers. She is the author of Learning to Weave. She lives in Guatemala. Teresa Cordón is the owner of the award-winning Comercial Naleb, a handwoven hat business. She is an avid provider of education and marketing for the work of Mayan artisans. She lives in Guatemala. Joe Coca is a photographer of people from all walks of life over five continents, industrial products and installations, architecture, food, and especially handcrafted textiles and other artisan goods. He lives in Fort Collins, Colorado.
Praise For…
---
"In Traditional Weavers of Guatemala, the authors present a sensitive, detailed, and much-needed holistic interpretation of how textiles and life inseparably intertwine."  —Mary A. Littrell, co-author, Artisans and Fair Trade

"[Deborah Chandler and Teresa Cordón] have expertly woven knowledge of artisan crafts with the enduring beauty of the Guatemalan landscape and the grisly history of ethnic cleansing by the country's army and police during the recent civil war."  —Kathleen Vitale, CEO, Endangered Threads Documentaries

"Authors Deborah Chandler and Teresa Cordón and photographer Joe Coca carry us to a new level of appreciation for the achievement of Guatemala's artists. The authors' deep knowledge and love of their subjects shine on every page."  —Marilyn Anderson, co-director, Pro Arte Maya

"Deborah Chandler and Teresa Cordón weave a tale as rich and textured as the cloth they describe. It is a triumphant tale of personal artistry and innovation."  —Mary Anne Wise, president and co-founder, Cultural Cloth

"Weavers will especially love the detailed information about textile techniques, but every reader will love this tour of Guatemala and introduction to its people."  —Madelyn van der Hoogt, editor emerita, Handwoven

"Coauthors Chandler (Learning To Weave; Guatemalan Woven Wealth) and Cordón have written a beautiful book featuring intimate portrayals of a diverse group of Guatemalan artists and their works."  —Jennifer Namizadeh, Librarian, Richmond Library, Columbia, South Carolina

"This is a beautifully illustrated book with enough technical information to interest weavers no matter what their skill level may be. The wealth of colour photographs of textiles will appeal to designers and collectors." —Shelly Anderson, Textile Research Centre, trc-leiden.nl