Every Day We Get More Illegal (Paperback)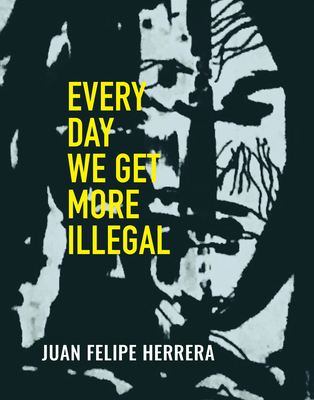 List Price: $15.95
Our Price: $14.95
(Save: $1.00 6%)
Should be on our shelves now -- but wait for confirmation from us before coming to pick up. We'll respond to your order shortly.
November 2020 Indie Next List
---
"Juan Felipe Herrera upholds and elevates the great ancestral lineage of our Mexicano/Chicano world. The Border lives in this man. The Border(s) will never leave him. He is the son of soul anarchy, the lost stories of my America. He is the trickster magician who lifts the mirror to our faces and allows us to see truth. When he breaks stride in this great walkabout of his, he tumbles the false world down while showing us the Better Way. These poems are fierce and compassionate. His journey has served him well."
— Denise Chávez, Casa Camino Real, Las Cruces, NM
Description
---
Voted a Best Poetry Book of the Year by Library Journal
Included in Publishers Weekly's Top 10 Poetry Books of the Year
One of LitHub's most Anticipated Books of the Year
A State of the Union from the nation's first Latino Poet Laureate. Trenchant, compassionate, and filled with hope.
Many poets since the 1960s have dreamed of a new hybrid art, part oral, part written, part English, part something else: an art grounded in ethnic identity, fueled by collective pride, yet irreducibly individual too. Many poets have tried to create such an art: Herrera is one of the first to succeed.--New York Times
Herrera has the unusual capacity to write convincing political poems that are as personally felt as poems can be.--NPR
Juan Felipe Herrera's magnificent new poems in Every Day We Get More Illegal testify to the deepest parts of the American dream--the streets and parking lots, the stores and restaurants and futures that belong to all--from the times when hope was bright, more like an intimate song than any anthem stirring the blood.--Naomi Shihab Nye, The New York Times Magazine
From Basho to Mandela, Every Day We Get More Illegal takes us on an international tour for a lesson in the history of resistance from a poet who declares, 'I had to learn . . . to take care of myself . . . the courage to listen to my self.' You hold in your hands evidence of who we really are.--Jericho Brown, author of The Tradition
These poems talk directly to America, to migrant people, and to working people. Herrera has created a chorus to remind us we are alive and beautiful and powerful.--Jos Olivarez, Author of Citizen Illegal
The poet comes to his country with a book of songs, and asks: America, are you listening? We better listen. There is wisdom in this book, there is a choral voice that teaches us 'to gain, pebble by pebble, seashell by seashell, the courage.' The courage to find more grace, to find flames.--Ilya Kaminsky, author of Deaf Republic
In this collection of poems, written during and immediately after two years on the road as United States Poet Laureate, Juan Felipe Herrera reports back on his travels through contemporary America. Poems written in the heat of witness, and later, in quiet moments of reflection, coalesce into an urgent, trenchant, and yet hope-filled portrait. The struggle and pain of those pushed to the edges, the shootings and assaults and injustices of our streets, the lethal border game that separates and divides, and then: a shift of register, a leap for peace and a view onto the possibility of unity.
Every Day We Get More Illegal is a jolt to the conscience--filled with the multiple powers of the many voices and many textures of every day in America.
Former Poet Laureate Juan Felipe Herrera should also be Laureate of our Millennium--a messenger who nimbly traverses the transcendental liminalities of the United States . . .--Carmen Gimenez Smith, author of Be Recorder
About the Author
---
Juan Felipe Herrera was the 21st U.S. Poet Laureate from 2015-2017, the first Latino to receive this honor. The son of migrant farm workers, he was educated at UCLA and Stanford University, and received his MFA from the University of Iowa Writers' Workshop. His numerous poetry collections include Notes on the Assemblage (2015), 187 Reasons Mexicanos Can't Cross the Border: Undocuments 1971-2007 (2007), Half of the World in Light: New and Selected Poems (2008), and Border-Crosser with a Lamborghini Dream (1999). Notes on the Assemblage was named a Best Book of the Year by The New Yorker, The Washington Post, Library Journal, NPR, and BuzzFeed. In addition to publishing more than a dozen collections of poetry, Herrera has written short stories, young adult novels, and children's literature.In 2012, Herrera was named California's poet laureate. He has won the Hungry Mind Award of Distinction, the Focal Award, two Latino Hall of Fame Poetry Awards, and a PEN West Poetry Award. In April 2016, Herrera received the Robert Kirsch Award for lifetime achievement from the Los Angeles Times. His other honors include the UC Berkeley Regent's Fellowship as well as fellowships from the National Endowment for the Arts, the Bread Loaf Writers' Conference, and the Stanford Chicano Fellows. He has also received several grants from the California Arts Council.Herrera is also a performance artist and activist on behalf of migrant and indigenous communities and at-risk youth. His creative work often crosses genres, including poetry, opera, and dance theater. His children's book, The Upside Down Boy (2000), was adapted into a musical. His books for young people have won several awards, including Calling the Doves (2001), winner of the Ezra Jack Keats Award, and CrashBoomLove (1999), a novel-in-verse for young adults, which won the Americas Award. His poetry collectionHalf of the World in Light was a finalist for the National Book Critics Circle prize in 2009. Herrera lives in Fresno, CA.