Cooking School: Mastering Classic and Modern French Cuisine (Hardcover)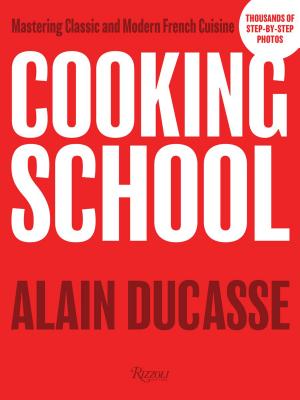 $55.00
Out of stock at the moment; would not arrive before the holidays.
Description
---
Presenting nearly 200 recipes, each illustrated with full-color, step-by-step photographs, and expert instruction from master chefs, Cooking School is more than a cookbook—it's a complete gourmet education. Recognized as one of the most renowned chefs and restaurateurs of his generation, Alain Ducasse also operates an acclaimed cooking school in the heart of Paris. Now as a gift to cooks and lovers of French cuisine around the world, he presents a new, fully updated collection of delicious recipes and expert lessons to give readers a complete course in French cuisine at home. Thoughtfully arranged in three sections based on difficulty, Cooking School builds at the reader's pace, introducing new methods with careful instruction. The step-by-step methods are detailed in thousands of photographs, which show cooks how to achieve picture-perfect results. Exhaustive indexes provide a wealth of descriptive knowledge, illuminating equipment, ingredients, and techniques the way a master chef would to a class of culinary students. From recipes for simple condiments and fundamental sauces to the iconic dishes of French cuisine and international cooking, including sushi and curries, and pastry recipes, including composed cakes and confections, Cooking School turns readers into true masters of their own kitchens.
About the Author
---
Alain Ducasse is a legendary, Michelin-starred chef and restaurateur with numerous restaurants around the globe. Along with Paule Neyrat, he is the author of Nature: Simple, Healthy, and Good and Cooking for Kids.
Praise For…
---
"When one cracks open the big Cooking School: Mastering Classic and Modern French Cuisine by Alain Ducasse et. al. one is immediately enticed by the elegant and simple layout, a book divided by recipes into easy, intermediate, and difficult categories with an extensive and useful appendix."
—New York Journal of Books 

In this beautiful gift volume, he presents a new, fully updated collection of fabulous recipes and expert lessons to give readers a complete culinary education! A must gift for your favorite foodie!
—Epicurus.com Magazine 

"Alain Ducasse's soup-to-nuts Cooking School is a must for foodies."
—Veranda

"...an authoritative volume that promises nearly 200 recipes and "thousands" of step-by-step photographs focused on French cuisine. With a title referencing Ducasse's cooking school in Paris, sections are organized by difficulty level to encourage even novice cooks to add the mother sauces to their repertoires."
—Eater.com

"If you know someone looking for the step-by-step instructions and images to perfecting French cooking, then this book is their new Bible. From tools to techniques, famed chef Alain Ducasse spells it all out for our ease."
—Honest Cooking 

"This is an important, world-class book. If you bring a copy home, it will not sit on your shelf. You will use it and you'll become a better home chef. And your family will know it!"
—Cooking by the Book